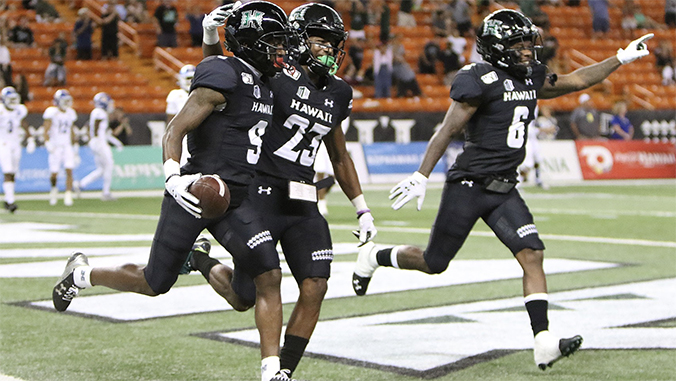 After a delay of several months, the University of Hawaiʻi's football team will soon take the field as the Mountain West (MW) Conference announced its plans to start the fall 2020 football season.
The conference initially postponed the fall sports season on August 10, due to the COVID-19 pandemic. The Mountain West's regular-season schedule will begin the weekend of October 23–24, with the intent to play eight games. The MW Championship Game is slated for December 19. Any return to competition is subject to state, county and local approvals.
"The Mountain West leadership has been working hard to get our young men back on the field in a safe manner," UH Athletics Director David Matlin said. "The health and safety of our student-athletes, coaches, staff and community has been our top priority. There are more challenges ahead but creating a safe path for our Warriors to return to the gridiron is a big step forward. We will continue to be diligent in our efforts and work with governmental agencies to pursue approvals."
MW has partnered with Quest Diagnostics to implement testing protocols across all member institutions. The agreement with Quest delivers frequent testing with rapid results, providing a major step forward for sport competition to resume. The conference will require all football student-athletes, coaches, trainers and other individuals that are on the field for all games to undergo testing three times per week. Test results must be completed and recorded prior to each game.
"I am elated for our players, our staff and our fans for the opportunity to compete and play the 2020 football season," UH Head Coach Todd Graham said. "I am extremely proud and honored to lead these fine men. I can't wait to compete on the field with them."
MW is in the process of finalizing thresholds for competition interruption, monitoring test results and other health and safety protocols that are consistent with NCAA resocialization guidelines.
A complete 2020 MW football schedule will be released at a later time. There are also a number of other issues that are still being worked out including whether the county restrictions will allow for any fans to attend games and details on if there will be exemptions on quarantine for visiting teams.
UH only participates in football in the Mountain West. The remaining sports compete in the Big West Conference. No decision on a return to fall athletics for the Big West has been announced.