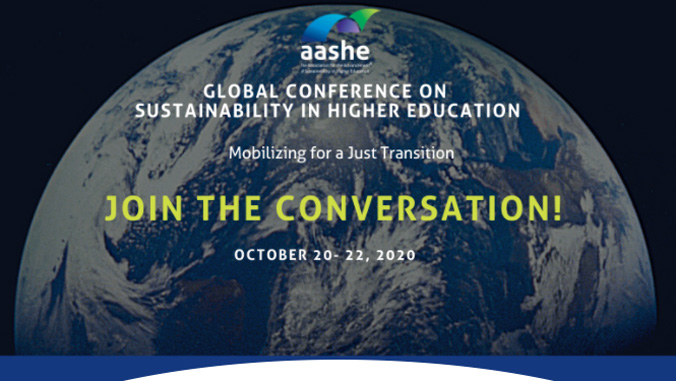 Humanity faces a series of intensifying and interrelated social and ecological crises. Solving these crises requires a holistic transformation: a shift from an extractive economy to a regenerative economy that can be driven by a transformation in education.
The University of Hawaiʻi at Mānoa and Honolulu Community College are Host Sponsorship institutions for the Global Conference on Sustainability in Higher Education, Oct 20–22, 2020. Students, faculty, staff and administrators from UH Mānoa and Honolulu CC are eligible to attend at $0 cost (a $125–$300 value). Sign up to receive forthcoming complimentary registration information.
The international conference of the Association for the Advancement of Sustainability in Higher Education (AASHE) brings together sustainability leaders from around the world in diverse fields to share effective models, policies, research, collaborations and transformative actions.
Professor of History Cynthia Smith, serves as Honolulu CC's sustainability co-coordinator. "Attending the AASHE conference in 2017 was transformative for me. I brought back resources and best practice models which enhanced, even kickstarted, projects on our campus," said Smith. "This co-host opportunity will now enable all members of the Honolulu CC to attend workshops and panels to learn from, and be inspired by peers from institutions across the country and internationally."
The fully online event occurs as part of Climate Education month hosted by the UH Office of Sustainability, and will deliver inspiring content, engaging networking opportunities and thought-provoking keynote speakers and presenters of innovative professionals committed to building a more sustainable future.
"One of the few bright sides of the COVID-19 pandemic is the dramatic increase in the ability of our students, faculty and staff to participate in national and international events without the burden of travel," said UH President David Lassner. "The AASHE Global Conference on Sustainability presents a great opportunity for the UH Mānoa ʻohana to learn from others and share our own practices and stories."
With a theme of "Mobilizing for a Just Transition," the 2020 global conference will focus on centering justice within this transformation. Robin Wall Kimerer, SUNY will deliver the keynote address on Oct 22 titled "What does the Earth ask of us?"
Presentations from UH include "Teaching Climate Change in Higher Education: Understanding Faculty Work & Identity" by Krista Hiser (Kapiʻolani Community College); "The Conscience of a Campus Framework – Integrating Local and Global Cultures" by Daniel Friedman (UH Mānoa); "Truth, Racial Healing and Transformation for Climate Justice on Island Earth" by Kaiwipuni Lipe (UH Mānoa) and Matthew K. Lynch (UH System).
"Attending last yearʻs AASHE conference was a rich experience. There are learning opportunities ranging from campus stewardship to engaging in national climate change policy," said Makena Coffman, director for the Institute for Sustainability and Resilience at UH Mānoa. "Being able to participate remotely in this time opens up a great opportunity for wider engagement of the UH Mānoa community."
"Honolulu CC faculty, staff and students will have the opportunity to engage with leaders and colleagues across the world," said Vice President for UH Community Colleges Erika Lacro. "Learning from others in the field will assist the college in making further enhancements in sustainability curriculum and campus operations."
The conference organizers encourage higher education sustainability leaders to reflect and act on the Just Transition Principles articulated by the Climate Justice Alliance, and to spotlight inspirational examples of institutions championing this work.
"This will be instrumental in moving our campus forward, accelerating our ability to meet sustainability goals and fostering deeper and more widespread sustainability education in our classes," said Honolulu CC Chancellor Karen Lee. "We are grateful and excited for the opportunity."