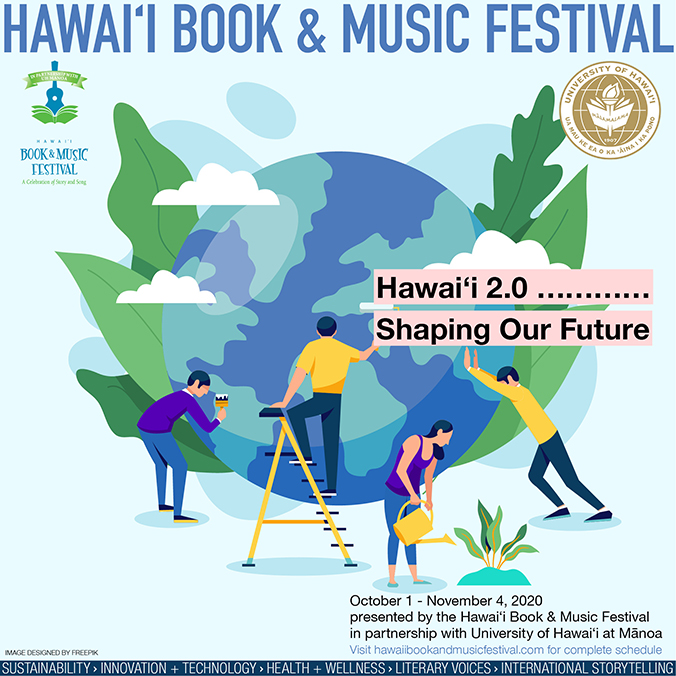 The University of Hawaiʻi at Mānoa is the new home of the 15th annual Hawaiʻi Book & Music Festival (HBMF), a celebration of story and song that reflects Hawaiʻi's heritage and cultures. Presented under the theme "Shaping Our Future–Hawaiʻi 2.0," the virtual festival runs Thursday, October 1–Wednesday, November 4.
The free, non-profit festival is open to the public, and will feature 55 live Zoom sessions in six tracks covering a variety of topics deeply impacting the local community. Join in discussions and presentations led by a variety of community leaders and authors about what is taking place from within the industries of economy, technology/innovation, health/wellness, conservation, sustainability, the arts and literary fields.
UH President David Lassner and other members of the university community will kick off the festival by presenting UH's role in leading Hawaiʻi forward to a more resilient and manageable local economy. Topics will include highlights of what is taking place within the university's labs, classrooms and community outreach, as well as highlight the role the institution plays in Hawaiʻi's educational future.
"COVID-19 brought into high relief large questions about the future of Hawaiʻi, and HBMF 2020 is addressing these head-on, bringing to bear many decision-makers, experts and thought-leaders from the University of Hawaiʻi as well as the business, nonprofit and government sectors," said Executive Director Roger Jellinek. "We also look forward to hearing from a variety of local and nationally published authors who will share their latest work."
Other festival themes include: sustainability for Hawaiʻi 2.0, innovation future, wellness and resilience and storytelling by Hawaiʻi and international authors.
In addition to its partnership with UH Mānoa, HBMF is supported by Bank of Hawaii, Bess Press, Hawaii Business magazine, Hawaii Public Radio, Hawaiʻi Tourism Authority, iHeart Media, Island Insurance, Nella Media Network and Oceanit Laboratories.