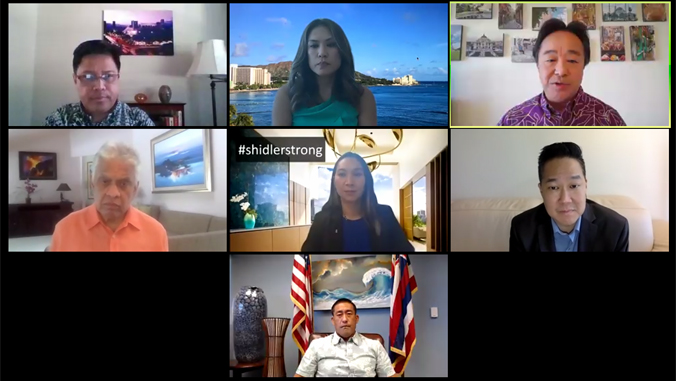 A University of Hawaiʻi at Mānoa virtual series addressing the reopening of Hawaiʻi's tourism industry kicked off September 29, with a discussion featuring five community leaders.
The goal of the free series—hosted by the Shidler College of Business Alumni Association and Travel Industry Management (TIM) International, the alumni association of the TIM School—is to stimulate ideas that can be implemented by Hawaiʻi businesses, tourism stakeholders, hospitality workers and the general public.
The first session, "Restarting Hawaiʻi's Tourism Industry," featured John De Fries, newly appointed Hawaiʻi Tourism Authority (HTA) president and CEO; Derek Kawakami, County of Kauaʻi mayor; Sherry Menor-McNamara, Chamber of Commerce Hawaii president and CEO ; Pono Shim, Oʻahu Economic Development Board president and CEO; and Glenn Wakai, Hawaiʻi state senator and chair of the Senate's committee on economic development, tourism and technology.
De Fries, who began his current position at HTA on September 16, said the way to reopen tourism is to flatten the COVID-19 curve. "This pandemic has actually put a hospital into the hospitality industry because it's caused us to elevate our standards of hygiene, sanitization and sterilization. Making a commitment to flatten the curve permanently is the only way industry can get underneath and government leaders can get underneath and reconstruct an economy that's in a total state of collapse."
Kawakami said reopening tourism is about prioritizing the health and safety of residents, and developing trust is important during the decision making process. He also talked about possible resort bubbles on Kauaʻi as an alternative plan. "When it was pushed back from August 1st, we immediately said it's clearer that we got to start coming up with some contingency plans. The resort bubble model is basically just a plan B…if we have to move forward slowly, this is a model that will work. If we ever open up and have to retreat back slowly, this is a model that is more acceptable than the 14-day mandatory quarantine."
Menor-McNamara emphasized personal responsibility and the dangers of another shutdown on Oʻahu's local businesses. "Now that we have another chance to get this right—because we cannot afford a third shutdown—that we take our personal responsibility seriously and hold ourselves accountable. And that goes to businesses as well, making sure that you implement proper health and safety protocols to protect your employees as well as your customers and clients."
In order to increase personal responsibility, Shim suggested a perspective of connection versus correction. "We've become a society that is so focused on how we correct but not exercise the muscles of connection. If we assume that we can share it in a way that connects and allows people to realize what the impacts we have…then maybe we start to transform our own behaviors."
Wakai is concerned with the pre-travel testing program beginning on October 15 and said there is still business to take care of in Hawaiʻi. And for 2021, Wakai said there is still a long road ahead to bring the visitor industry back. "If I were to be pacing ourselves, I'd try to figure out how we get transpacific from the mainland right before we even start talking about bubbles with Korea, Japan, Australia, New Zealand, elsewhere."
Upcoming webinar topics
The series continues every Tuesday through November 10. Each webinar will feature a different industry topic, such as tourism, health and safety, airlines, hotels, retail, restaurants and a focus on Japan.
For more information and to register, visit the Shidler College of Business website.
October 6: Addressing Health Safety, Technology & Policy Innovation
October 13: Impacts and Forecast of the Airline Industry
October 20: Impacts and Forecast of the Hotel Industry
October 27: Restoring Travel from Japan
November 3: Impacts and Forecast of the Retail & Shopping Center Industry
November 10: Impacts and Forecast of the Restaurant & Food Industry