In-person live performances have been put on hold at University of Hawaiʻi at Mānoa's Kennedy Theatre and Earle Ernst Lab Theatre due to COVID-19. However, the shift to performing on a virtual stage is not new for the UH Mānoa dance program.
Associate Professor of Dance Kara Jhalak Miller said digital production has been part of the curriculum since 2011, and students and faculty have been prepared to shift to an online delivery.
"Our dancers are required to learn the basics of screendance filming, editing and interactive video projection and motion capture software in our undergraduate course Visual Media for Dance and graduate course Advanced Dance, Technology, and Live Performance that they can activate in their diverse performance practices," Miller said. "Before COVID-19 required all of us to go online, the dance program had experimental live stream performances and dance class exchanges on Zoom and Ustream."
The dance program's first fall 2020 production, the student-led Virtual Dance Performance, will be streamed online October 16–18, 6 p.m. Tickets are $5–$15 and can be purchased on the Department of Theatre and Dance website.
"During a crisis like this, the role of dance and the arts becomes more central to our lives," said Miller, who is the faculty advisor for this production. "Our dancers are meeting this challenge with a great creative force of vision, inventiveness, originality and expression."
Performance preview
The program will feature 25 individual and group performances. Visit the UH Mānoa dance program Facebook page for a preview.
Jasmine Quilit grew up in Honolulu and has been dancing ballet with Hawaii State Ballet for approximately six years. She is a senior pursuing degrees in French and dance. While she has had professional training in ballet, Quilit first began dancing hip hop in the fifth grade. Her performance is a hip hop dance called Reinvest.
"It was mostly improvised by me. My favorite dance style involves using music, rhythm and beats as a driving force for my movements. I hope that comes across in my performance," Quilit said. "I learned about all of the logistic preparation. Having to think about location, lighting and equipment was not something I would have had to do if we were in the lab theater."
Erika Sanchez, an MFA candidate in dance, will debut two works. Avenue will be performed live, and Sanchez choreographed, staged and incorporated lighting for the performance. The piece is influenced by body mechanics. Momentum is a pre-recorded "dance for camera" piece Sanchez performed, directed and edited. The performance includes dance improvisation shots and incorporates music from the Kenny Endo Taiko Ensemble.
"Movement dynamics and textures are typically lost through the screen, so choreographing the changes in dynamics of my movement has to be exaggerated to reach our virtual audience," Sanchez said. "Also the duration of performances is vastly different on screen. I noticed I needed to limit the time of the performance to less than eight minutes, as viewers tend to lose focus for live performances online when there is a single wide angle position of the shot."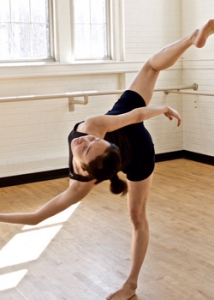 Yi An is a dancer, educator, scholar and choreographer from Dalian, China, and is pursuing a PhD in performance studies. She began her full-time professional dance training at the age of 12 at Beijing Opera Art College and the renowned Beijing Dance Academy. An's dance, Dancing in Between, is based on a Chinese classical dance genre and aesthetics.
"As a Chinese dance artist who experienced international dance education abroad, I have a passion to share traditional Chinese dance and culture for people around the world which serves as conduit to forge diverse cultural understanding and respect globally," An said. "I hope to create a comfort zone for the audiences to connect with my work deeply, and free them to find their own destination from this piece."
—By Marc Arakaki