A new book that shares the delight to be found in mathematics exploration with children was written by University of Hawaiʻi at Mānoa College of Education Curriculum Research & Development Group (CRDG) mathematics faculty members.
Who Has More? The Great Flood introduces children to a curious little girl, Lani, and her best
friend, Rabbert. Children join Lani and Rabbert as they observe, explore and experiment with the concept of volume through practical daily living activities. Along the way, they become aware of the everyday math around them. The title reflects the mathematical concept found in the story in a way that is accessible to young keiki.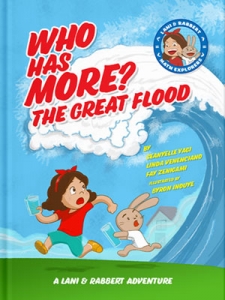 CRDG Associate Specialist Seanyelle Yagi, Associate Professor Linda Venenciano and retired Junior Specialist Fay Zenigami created the book as a means for expanding their work from the Measure Up mathematics research and development project at CRDG. The book is illustrated by CRDG Senior Learning Technology Digital Arts Designer Byron Inouye.
In their development of the Measure Up project, the authors discovered that incorporating stories into mathematics lessons brought joy to first grade students and built upon their imagination and creativity.
"Stories presented a highly engaging situation through which students could investigate complex and challenging mathematics concepts," said the authors. "Our observations of the students in the classroom inspired us to write the Lani and Rabbert, Math Explorers storybook."
Who Has More? The Great Flood is the first title in the Lani and Rabbert Math Explorers series. The book and the free online activities that accompany it provide an educational resource for parents, caregivers and educators who want to start introducing their kids to mathematical ways of thinking. Hardcover and ebook versions are available for purchase.