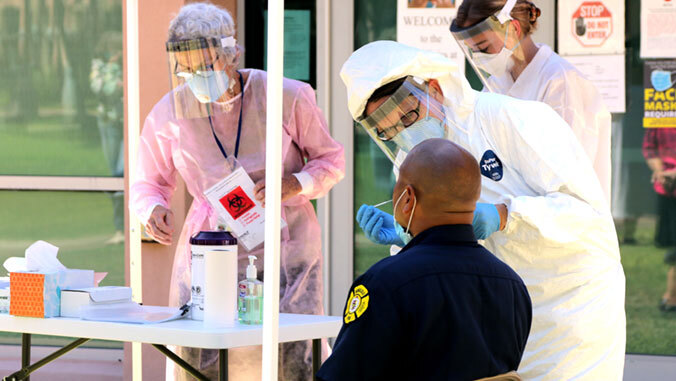 The University of Hawaiʻi has begun operations at its new COVID-19 testing laboratory in partnership with the City and County of Honolulu that will expand testing capacity for vulnerable populations on Oʻahu.
The Tropical Medicine Clinical Laboratory (TMCL), based at UH Mānoa's John A. Burns School of Medicine (JABSOM), will begin conducting COVID-19 tests by appointment only from its Kakaʻako clinic beginning Monday, October 19. TMCL will augment Oʻahu capacity to provide testing for homeless and uninsured individuals that face unique barriers to accessing testing for the virus that causes COVID-19.
TMCL is also collaborating with seven Community Health Centers across Oʻahu to process tests for underserved, uninsured and front-line workers who may require multiple tests for safety at their workplace.
For an appointment, please call the University of Hawaiʻi Clinics at Kakaʻako at (808) 692-1310. For more information, visit the website. Per UH guidelines, anyone coming onto the campus must wear a face cloth covering. In response to the COVID-19 health crisis, JABSOM is not open to the public and is a smoke-free campus. The COVID-19 test results can be expected between 24–48 hours and will be shared with the State Department of Health. Please note the TMCL is not a State-approved Safe Travels pre-flight testing site and will not perform pre-travel testing.
"This partnership with the John A. Burns School of Medicine and the City and County of Honolulu will provide testing to those who might otherwise not have access to it," said Honolulu Mayor Kirk Caldwell. "This virus doesn't discriminate, and as we continue to open up our economy, we need to keep testing to know where in our community the virus is hiding. The John A. Burns School of Medicine, the only lab associated with an institution of higher learning in Hawaiʻi, adds testing capacity in an extremely crucial time in this pandemic."
The new lab is being supported with up to $3.9 million in CARES funds from the City and County of Honolulu. The partnership was structured in phases, with $1.2 million being made immediately available to stand up the lab in the first phase, and then pay for tests on an as-needed basis in phases 2 and 3.
Funding from the City and County of Honolulu served as foundational support to establish the lab and will support capacity at the lab to process up to 100,000 COVID-19 tests annually. The TMCL will also lead research efforts to develop innovative approaches for less invasive and more cost effective COVID-19 testing.
TMCL will operate out of JABSOM's Department of Tropical Medicine, Medical Microbiology and Pharmacology led by Vivek Nerurkar, professor and chair, who will work alongside a leadership team that reflects UH's extensive expertise in virology, bacteriology, parasitology and immunology. UH Mānoa associate professor of oceanography Rosie Alegado is the community liaison lead for the TMCL and has been instrumental in this collaborative effort.
"We are deeply grateful to Mayor Caldwell for supporting the startup of our new testing lab. This not only enables us to help ensure adequate testing across Oʻahu, but we will be able to explore innovations in testing for COVID-19 that can remove barriers to pervasive testing for all," said UH President David Lassner. "I especially want to credit Dr. Vivek Nerurkar and Dr. Rosie Alegado, whose dedication and perseverance has been remarkable in overcoming obstacles and hurdles that could never have been expected."
TMCL will utilize nucleic acid amplification tests (NAAT). The FDA-authorized NAAT tests for SARS-CoV-2 meet the Emergency Use Authorization statutory standard, and based on the current available data, are highly accurate.
Donate to the UH Foundation fund on COVID-19 research at UH.