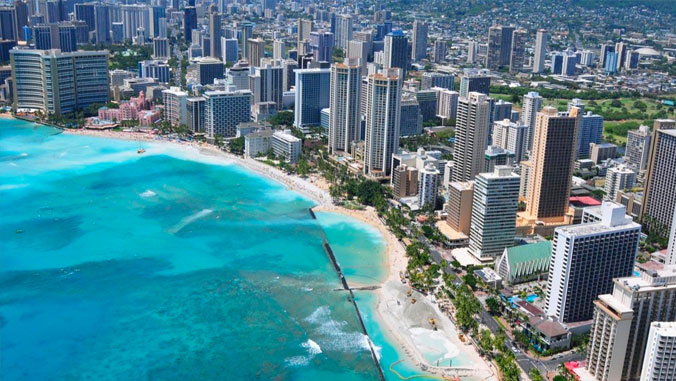 A University of Hawaiʻi at Mānoa virtual series addressing the reopening of tourism to Hawaiʻi continued with a discussion featuring five hotel industry leaders on October 20.
The goal of the free series—hosted by the Shidler College of Business Alumni Association and Travel Industry Management (TIM) International, the alumni association of the TIM School—is to stimulate ideas that can be implemented by Hawaiʻi businesses, tourism stakeholders, hospitality workers and the general public.
"Impacts and Forecast of the Hotel Industry," featured Mufi Hannemann, president and CEO, Hawaiʻi Lodging & Tourism Association (HLTA); Kelly Sanders, senior director of operations—Hawaiʻi, Highgate Hotels; Linda Rodrigues, senior vice president—marketing, Hilton Grand Vacations; Tom Calame, area general manager, Marriott Hawaii and managing director, Kyo-ya Hotels & Resorts, Ltd.; and Elliot Mills, vice president, hotel operations, Disneyland Resort and Aulani.
Hannemann shared that a dramatic drop in visitor arrivals due to COVID-19 from 30,000 per day to less than 1,000 had a major impact on the industry. Prior to the state implementing a pre-travel testing program, Hannemann said the HLTA formed health, safety and security standards built around three pillars: mākaukau, proper preparation; hana pono, proper procedures; and pane, having the answer for visitors who may arrive on their properties.
"These health and security standards needed to be put in place not only to make sure that travelers and visitors to our properties were going to be treated in a place with a secure environment, but most of all, the workers of our establishments would feel that they be in a safe and secure environment," Hannemann said.
Sanders shared that his company owns seven hotels in Hawaiʻi and they all took major financial hits of up to $4 million a month. He looks forward to welcoming back guests and visitors to Highgate properties and explained the new safety protocols that all guests and employees need to follow, which include a contact-less experience and enhanced sanitization of all facilities.
"As an associate of our hotel, when you arrive, you have to go through a screening protocol that takes your temperature and you have to sign in, you have to do a health questionnaire and then you are banded so that all of the guests know that you have gone through that screening protocol," Sanders said.
Rodrigues shared the enhanced safety protocols being taken at all Hilton Grand Vacations properties and emphasized that the timeshare industry has shown that it has been extremely resilient during and after times of crises, including after Hurricane Iniki battered parts of the state in 1992.
"Timeshare owners behave very differently as they hold a vested interest in their property," Rodrigues said. "Most of our units are equipped with kitchens and spacious living rooms with additional space that allows for peace of mind during times like this."
Calame said he looks forward to reopening Marriott properties after all but three Marriott hotels in the state temporarily shut down due to COVID-19. Since Hawaiʻi was closed to tourism for several months, Calame noted that he was able to learn from other properties in the market and emphasized the need to be flexible.
"It's all about how we introduce it and not so much just the message. Do it in a way that is hospitable but still reminds people that this is something we need to do together," Calame said. "Our tourists want to come to Hawaiʻi, we want them to come to Hawaiʻi, so if we want to make sure that continues, we need to make sure we do that together."
Mills said safety remains a top priority for guests and employees. He also noted that his team looks at Ko Olina as a neighbor island destination with the amount of open-air spaces and bays which allows for more physical distancing.
"We're definitely going to have our pools open, we're going to have all of our different room categories open for our guests to stay in," Mills said. "Our entire property resort will be open short of a few food and beverage offerings, restaurants, as well as some of the entertainment offerings that we won't be able to accommodate due to the restrictions currently."
To view previous webinars, visit the Shidler College of Business' Vimeo channel.
Upcoming webinar topics
The series continues every Tuesday through November 17. Each webinar will feature a different industry topic, such as tourism, health and safety, airlines, hotels, retail, restaurants and a focus on Japan.
For more information and to register, visit the Shidler College of Business website.
October 27: Restoring Travel from Japan
November 3: Impacts and Forecast of the Retail & Shopping Center Industry
November 10: Impacts and Forecast of the Restaurant & Food Industry
November 17: Topic TBD
—By Marc Arakaki