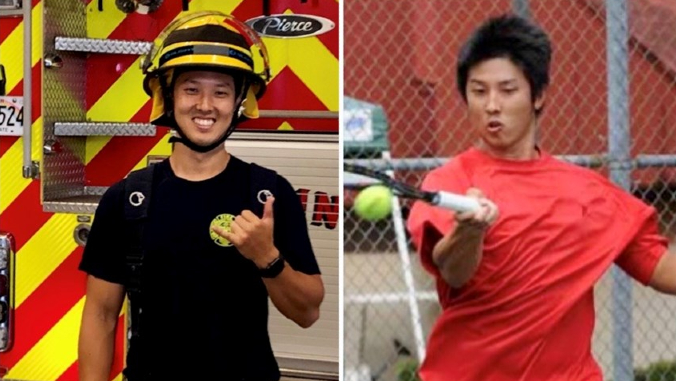 Kevin Tamura, who played for the University of Hawaiʻi at Hilo Vulcans 2007–10, now serves the community as a fire hazardous materials specialist at the Kaumana Fire Station. The Hilo native studied business administration and played tennis at UH Hilo, where he manned the No. 1 singles position as a senior and No. 1 doubles for most of his college career. Tamura was ranked as high as No. 4 in the NCAA West Region in doubles with his partner Laurent Columbo.
Tennis is a tough game, mentally and physically, but as grueling as a three-set match in the Hawaiʻi heat and humidity can be, a 24-hour shift at the fire station that could include emergency medical and hazardous materials situations, is a different level of tough.
Tamura has worked for the Hawaiʻi Fire Department for six years, responding to a variety of medical and fire emergency calls on a day-to-day basis.
"In general, our job as firefighters is to help and keep the community safe as best as we can," Tamura said. "If there is a hazardous materials emergency on the east side of the island, it is our job as a company to respond to it and help to mitigate the emergency situation. Performing CPR when a patient's heart stops is part of what we often have to do."
Tamura said that some lessons he learned on the tennis court and as a student at UH Hilo translate to what he is doing now. Additionally, his former coach Kula Oda, who is the current UH Hilo associate athletic director, served as a major role model for the firefighter.
"Tennis can be a really frustrating sport mentally, and the majority of the time it's just you on the court with your emotions going up and down throughout the match," Tamura explained. "So to have a coach that's so calm and collected talk to you, really helps calm you down. Those values that Coach Oda exhibited really helped me become the firefighter I am today. To be willing to lend a helping hand whenever possible while staying calm, especially in a stressful situation, are things that I carry with me to this day."