Approximately 160 University of Hawaiʻi students and alumni connected one-on-one with representatives from federal and state agencies, defense contractors and local companies in the Careers in Intelligence virtual career fair.
The event was hosted by UH on October 16, along with co-sponsors NSA (National Security Agency) Hawaii, U.S. Indo-Pacific Command and Cyber Hawaii.
The purpose of the event was to highlight internships and jobs in the national security and intelligence career fields, and to build on the university's partnership with NSA Hawaii and the U.S. Indo-Pacific Command. The event was open to UH students and alumni from all 10 UH campuses with backgrounds and interests across all academic disciplines.
"In today's high-tech, high-connectivity world, ensuring a secure environment for national security, commerce and individuals has become paramount," said UH Vice President for Research and Innovation Vassilis L. Syrmos. "The recent intelligence fair held at UH is just one example of our successful partnership with the U.S. Indo-Pacific Command and NSA Hawaii to help engage some of our best and brightest students into the exciting and rewarding fields of intelligence and cybersecurity."
UH partners encourage career paths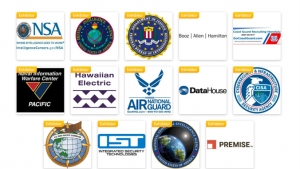 Career fair attendees and employer representatives were welcomed with keynote presentations by U.S. Navy Rear Adm. Mike Studeman, U.S. Indo-Pacific Command director for intelligence; and U.S. Navy Capt. Kurt Mole, commander of NSA Hawaii. Studeman provided an overview of the many rewarding jobs in the intelligence community (IC) and Mole provided unique insight into the many internships, scholarships and career opportunities in NSA.
"It was a great opportunity to connect with prospective local talent in the UH system and inform them of the fantastic opportunities in the intelligence community," Mole said. "It was a great way to inform them about what NSA Hawaii has to offer and work with our other IC members to enhance awareness and engage with the great UH talent."
The interconnectedness, diversity and concentration of Hawaiʻi's national security ecosystem is unlike any other across the nation, and remains a critical contributor to the security of our nation.
"The Indo-Pacific Command is proud to be a member of the Hawaiʻi community," Studeman said. "Countless opportunities exist on this island or further afield, depending on your preferences. We would love to have you join us as we work for something greater than ourselves—protecting America's civil rights and our freedoms while advancing security and prosperity for America and our allies and partners in the broader community of nations."