Health care leaders here at home and around the world recognize that teamwork is critical to the delivery of safe patient care while recognizing that such efforts do not come naturally to health sciences students or practitioners who are trained with distinctly different philosophical worldviews to meet specific roles. Anchored by the University of Hawaiʻi at Mānoa School of Nursing and Dental Hygiene's UH Translational Health Science Simulation Center (THSSC), the Hawaiʻi Interprofessional Education (HIPE) program prepares UH health sciences students for team-based practice to improve health care quality and value in Hawaiʻi.
Team-based learning will translate into safe, quality care for our community.
—Mary G. Boland, UH Mānoa Nursing Dean
HMSA Foundation has committed $1 million to support the statewide expansion of Interprofessional Education (IPE) at UH and to establish the endowed HMSA Distinguished Professorship in IPE to provide the leadership, expertise and research needed to implement and advance the HIPE program. This gift will create an infrastructure that supports and coordinates innovative experiential team-based learning experiences, while supporting the expansion of the IPE program and building on the past successes of HIPE.
"This initiative is aligned with HMSA's mission to create a healthier Hawaiʻi," said HMSA President and CEO Mark Mugiishi. "The transition to focus on team-based care will lead to improved patient safety and care, which will ultimately transform our health care system."
"We are grateful for HMSA Foundation's commitment to enhancing interprofessional education for UH students. Team-based learning will translate into safe, quality care for our community," said Mary G. Boland, dean and professor of UH Mānoa's School of Nursing and Dental Hygiene. "Our UH students will be better practitioners with the skills needed to work together in the constantly changing and dynamic healthcare landscape."
Preparing students for team-based practice
The World Health Organization defines interprofessional education as when students from two or more professions learn about, from and with each other to enable effective collaboration and improve health outcomes. Students from the UH Mānoa School of Nursing and Dental Hygiene, John A. Burns School of Medicine, Myron B. Thompson School of Social Work, Office of Public Health Studies, UH Hilo Daniel K. Inouye College of Pharmacy, and other UH health professions participate in HIPE learning experiences. The mission of the HIPE program is to prepare all health profession students to collaborate in teams to provide a safe, effective and sustainable patient/consumer-centered and community/population oriented health care system.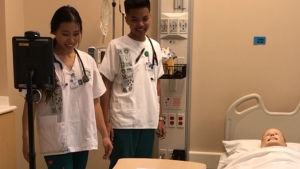 "Interprofessional education has taught me that while I will have a specific role as a pharmacist, I will be able to partner with my colleagues in other professions so we can build on the strengths of each other to provide patient care," said Josephine K.S. McDonald, a UH Hilo College of Pharmacy student pharmacist. "By working together, we can provide our patients with optimal care."
The demand for effective teamwork and collaboration is growing very rapidly and there is a sense of urgency, beyond national accreditation requirements, to prepare students for team-based practice to improve healthcare quality and value. Building capacity in teamwork and collaboration is a key to transforming the delivery of healthcare.
Since 2016, the HIPE program has delivered year-round technology supporting simulated learning experiences to prepare students for team-based practice. The IPE curriculum is built on the Interprofessional Collaboration Core Competency model and provides a clear path for the involvement of nursing, pharmacy and medicine, with social work and public health to focus on the overall improvement of health for the people of Hawaiʻi.
"As a practicing nurse, the interprofessional education I received from UH reinforced the idea that I have resources available to me and alleviates the pressure of feeling like I have to know everything," said Dennis Ho, a UH Mānoa Nursing master's degree student. "The interprofessional learning opportunities at UH gave me the experience and tools to effectively operate within a patient-centered care team."
With the expansion of the HIPE program, UH plans to create a statewide advisory committee comprised of the UH health care professional schools and allied health programs, community representatives and local health care agencies.
Interprofessional education at UH is anchored at the UH Translational Health Science Simulation Center. Support UH interprofessional education by making your fast, secure online donation.
For inquiries about giving to UH Mānoa Nursing, please contact Karla Zarate-Ramirez, associate VP, Major Gifts at (808) 956-2906 or email Karla.Zarate-Ramirez@uhfoundation.org.