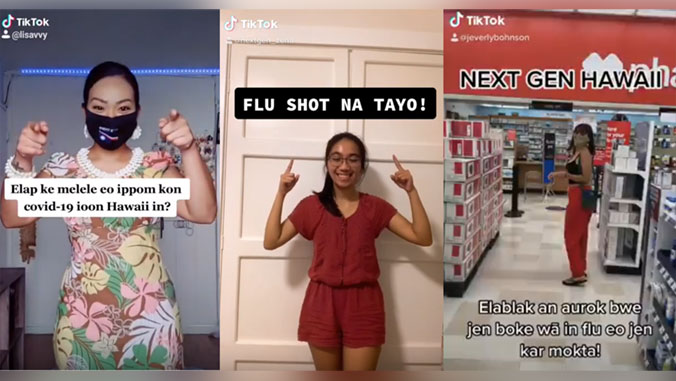 To provide COVID-19 information and recommendations in Ilocano, Marshallese, Chamorro, ʻōlelo Hawai'i and other languages, a group of young public health ambassadors are creating videos to help keep Hawaiʻi healthy during the pandemic. The effort arose from the Native Hawaiian & Pacific Islander COVID-19 Response, Recovery, and Resilience Team, and is supported by the University of Hawaiʻi at Mānoa Office of Public Health Studies, Papa Ola Lōkahi and the Hawaiʻi State Department of Health.
The TikTok-style video challenge was launched by Next Gen Hawaiʻi, a collaboration of organizations involved in the state's COVID-19 response efforts.
Many UH Mānoa public health students and graduates have participated.
"The public health ambassadors bring creative energy to public health messaging around topics such as mask wearing, staying together over distances and flu shots," said Tetine Sentell, director of the Office of Public Health Studies.
"They are social influencers with important information to share. We believe this is key to leveraging community strengths and trusted relationships within intergenerational households to promote well-being and healthy behaviors during this stressful time," Sentell added.
Next Gen
Hawaiʻi
Next Gen Hawaiʻi public health ambassadors are teens and young adults who create social media content focused on public health awareness and resources in multiple languages spoken in Hawaiʻi. For the remainder of 2020, Next Gen Hawaiʻi will host two TikTok challenges monthly, which will be shared widely.
"The goal of the Next Gen Hawaiʻi project is to amplify voices of the youth of Hawaiʻi in their languages to support better health in their communities, especially in Pacific Islander, Native Hawaiian, and other communities that have been so impacted by COVID-19," said Momi Tolentino, communications and community relations assistant at Papa Ola Lōkahi, who is helping run the program.
"We want to bolster health, a sense of belonging, and in-language outreach to Hawaiʻi communities during COVID-19," Tolentino added.
For more information about Next Gen Hawaiʻi, email hawaiinextgen@gmail.com.