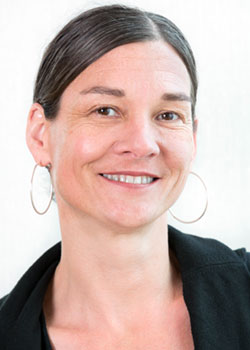 Christina Gerhardt, associate professor of German at the University of Hawaiʻi at Mānoa has been invited to be the Currie C. and Thomas A. Barron Visiting Professor of the Environment and the Humanities at the High Meadows Environmental Institute at Princeton University for the 2021 calendar year.
At UH Mānoa, Gerhardt's research and teaching focuses on the environmental humanities, film and German studies. Gerhardt has been working to establish an undergraduate program in the environmental humanities in response to strong student interest in the environment. This work has been supported at UH Mānoa by a Provost Strategic Investment Award.
At Princeton University, Gerhardt will focus on a research project and have the opportunity to engage with the Princeton community by teaching one course each semester and organizing events.
Gerhardt will complete her current book project, an Atlas of (Remote) Islands and Sea Level Rise, which examines the impacts of sea-level rise on low-lying islands around the world. The book combines environmental studies and environmental humanities, geography and cartography, creative nonfiction and poetry to share Indigenous environmental beliefs, sea-level rise impacts and the actions underway being taken to address these impacts. She will also teach a course at Princeton on sea-level rise and islander's poetry.
Gerhardt is also editor-in-chief of ISLE: Interdisciplinary Studies in Literature and Environment, the quarterly journal of the Association for the Study of Literature and the Environment, published by Oxford University Press.