The Windward Community College Meals with a Mission program is seeking donations to feed hungry students during the spring 2021 semester. To help encourage donations, Professor Emerita Jacquie Maly is offering a challenge to the community.
"I will match dollar-for-dollar up to $10,000 to anyone who believes that students will be better prepared to achieve their goals with the support from Meals with a Mission," said Maly.
The Meals with a Mission program was created in August to combat food insecurity and promote student success. During the fall semester, Chef Dan Swift and the Uala Leaf Café staff prepared and served hundreds of students with thousands of meals thanks to donations from Maly, the Hawaiʻi Community Foundation and Windward CC Ambassadors.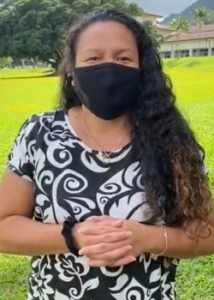 "Our goal is to raise $20,000," said Swift. "It is so very special to see students enjoying a healthy and nutritious meal at no cost. I know what it is like to be hungry while trying to focus on schoolwork, and the difference that a meal makes in one's ability to grow the mind is immeasurable. It is an honor to be a part of Windward Community College's Meals with a Mission program and to serve our campus ʻohana."
More than 50% of Wind­ward CC students receive financial aid, SNAP benefits (food stamps) and scholarships to attend college. However, for many stu­dents, it is not enough. The troubling reality is many Windward CC students don't get enough to eat. Being hungry affects their focus and can impact their grades. Providing strong student supports like Meals with a Mission has been impactful at Windward CC.
"Being able to be on campus and continue my schoolwork without having to leave to go buy something is so convenient for us to be able to have these free meals prepared [so we can] concentrate on the work that needs to be done," said student Alisha Kaluhiokalani. "I'm grateful and I wanted to say mahalo to all the donors and those who have been able to put together Meals with a Mission and make it possible for me to partake."
Fellow student Kimo Adams added, "We hope that these Meals with a Mission will continue so that we will be healthy and that we will be able to continue to move forward with our education here at Windward Community College."
One student said, "I am so grateful to receive these healthy meals every day during the semester. Most days I have to feed my five children with nothing much left for me. If it wasn't for Meals with a Mission, I wouldn't have a healthy meal every day. I need this right now. It allows me to focus on my studies and stay in college."
To accept the Jacquie Maly Challenge and donate to the Meals with a Mission program, email Chancellor Ardis Eschenberg or call at (808) 235-7402. Donations can also be made online.