The University of Hawaiʻi at Mānoa Shidler College of Business' annual scholarship event looked a little different this year. Instead of the traditional luncheon, the event was held on Zoom to celebrate the generous support of its scholarship donors and student scholars.
To give it a personal touch, more than 300 students and donors met virtually in smaller breakout rooms. This year, the college awarded more than $825,000 in scholarships to 337 students.
"In the midst of everything we've faced during this challenging year, it is truly heartwarming to hear from students whose lives were enriched by the generosity and thoughtfulness of our scholarship donors," said Vance Roley, dean of the Shidler College of Business. "Scholarship support not only helps students achieve their educational goals but affords them opportunities to engage in leadership and college activities to prepare them for future success."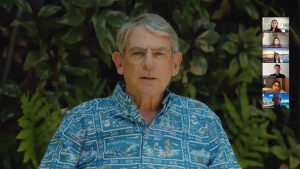 Keynote speaker and former Hawaiian Electric Industries executive Robert Clarke spoke about his nearly 30-year involvement with the business college. He explained that this was the reason that he and his wife established a $100,000 scholarship for freshmen and shared his emotional experience meeting his scholarship recipient.
"Last year, we went to the luncheon and met the first recipient of our scholarship, and it was a very moving moment for me," Clarke said. "We talked to this woman, who is extremely impressive, and learned that our scholarship was going to make a difference in her life."
According to graduate scholarship speaker Penelope Ng Pack, receiving a scholarship will not only help ease her financial burden but will impact her career and quality of life.
"We all have different Shidler success stories but are united in that we wouldn't be here to share them without the generous hearts of our Shidler donors," Ng Pack said. "Mahalo nui loa for providing us with scholarships to make our educational opportunities possible and the ability to make our dreams a reality."
The scholarship luncheon began in 2005 with a little more than 40 participants. Since then, the event has grown steadily drawing more than 350 scholarship recipients and their alumni, corporate and community donors.
View an event video on Shidler College of Business' Vimeo page and visit the Shidler College of Business website for a list of scholarship recipients and donors.