A musical lineup of University of Hawaiʻi at Mānoa all stars honored Professor Emerita Barbara Barnard Smith, who celebrated her 100th birthday earlier this year. "A Centennial Celebration," presented by the UH Contemporary Music Ensemble, premiered November 24, and can be viewed on YouTube.
The concert featured music by Professor Donald Womack, Associate Professor Takuma Itoh, Professor Emeritus Takeo Kudo, Professor Emeritus and lecturer Byron Yasui, UH Mānoa PhD graduate Yoko Sato and current PhD student Christopher Molina; performances by Professors Jonathan Korth and I-Bei Lin, and lecturers Darin Miyashiro, Aaron Salā, Anna Womack, Todd Yukumoto and Christopher Blasdel; and music and performances by Kenny Endo, Raiatea Helm and many more.
In memoriam: Barbara Smith, ethnomusicology program founder
—July 3, 2021
"As a champion for the study of music and dance from Hawaiʻi, Asia and the Pacific, and as the founder of UH's ethnomusicology program, Barbara Smith has created a remarkable legacy," said Professor and UH Contemporary Music Ensemble Director Thomas Osborne. "Not only has she had a substantial impact on the field of ethnomusicology, but she has also opened new avenues of collaboration between composers and performers from different cultures. Here at UH Mānoa, our composition program is unique because of its focus on intercultural music and our faculty and students regularly compose for non-western instruments, especially those of East Asia."
Osborne added, "Because of Barbara's vision, UH has become a hub for this emerging trend in contemporary music. This concert is a tribute to that vision, and these performances of contemporary works show that traditions are never static; they are very much alive, and always changing."
Barbara B. Smith's legacy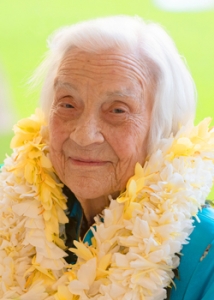 A native of California, Smith came to UH Mānoa in 1949 to teach piano and music theory, after earning her master's degree in music literature from the Eastman School of Music. She then became interested in her students' diverse ethnic backgrounds, but realized that what they were learning was limited to Euro-American culture.
Smith learned to perform the music of various ethnicities and introduced classes in hula and Hawaiian chant, Korean dance, Chinese butterfly harp and Japanese gagaku (court music). A partnership with the East-West Center after the 1960s brought visiting scholars and performances of world music, dance and theater to Hawaiʻi, which resulted in the formation of master's and doctorate programs in ethnomusicology at UH Mānoa.
After retiring from full-time teaching in 1982, Smith remained engaged with the university through fieldwork, research advocacy and mentoring international graduate students. She even continued mentoring dissertation students virtually during the COVID-19 pandemic.
Smith's accolades include being named a "living treasure" by the UH Mānoa Colleges of Arts and Sciences; being recognized as a "pioneer" by the Honolulu City Council; the 2018 Hawaiʻi Arts Alliance Alfred Preis Honor; and the Governor's Award for the preservation of Hawaiian Language, Art and Culture.
—By Marc Arakaki