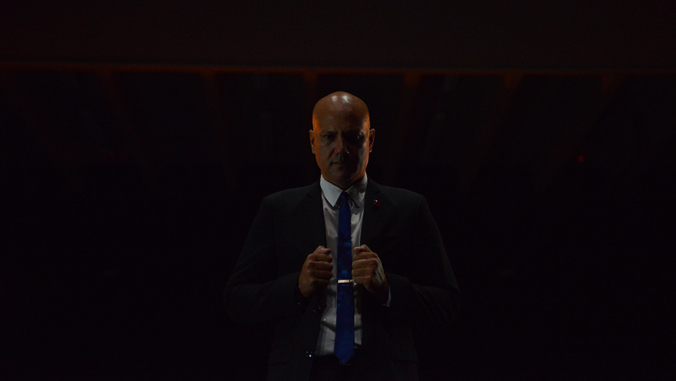 The University of Hawaiʻi at Mānoa's Department of Theatre and Dance and Kennedy Theatre showcase I'm Lot Lane (a solo effort), an original virtual production inspired by historical accounts of the last remaining royalist insurgent in Hawaiʻi. Lot Lane turned himself into government forces by simply walking in and announcing "I'm Lot Lane" during the Uprising of 1895.
MFA candidate and project creator Keola Simpson describes the solo production as "a deconstruction of the American and Hawaiian theatres, examining our dependency on propaganda, hierarchy and fear of truth on our stages."
Online performances are December 4 and 5 at 7:30 p.m., and December 6 at 2 p.m. Visit the Department of Theatre and Dance website for more information and to purchase tickets.
About I'm Lot Lane (a solo effort)
The production is not a biography of Lot Lane, rather it is a pursuit of the man who Simpson believes Lot Lane to be. It also seeks to inspire the cultivation and re-education of what people in Hawaiʻi have been taught about theatre, and to embolden the audience to take a closer look at what theatre can accomplish. It is a brash production that pushes against the norms of what theatre has been used for in Hawaiʻi.
Simpson credits inspiration from several UH Mānoa departments and programs including, Hawaiian studies, political science, women's studies and ethnic studies, in addition to professors and students from the theatre program who assisted with the production.
Regarding the switch to a virtual stage, Simpson said, "I look at it as an opportunity. With these online stages, we get to do things we couldn't do before. There are people we can reach that we couldn't reach before."
The performance is 65 minutes with no intermission. After the December 6 performance, there will be a discussion with Simpson and Department of Theatre and Dance Chair Markus Wessendorf. More information about the discussion is on the Department of Theatre and Dance website.
The production has a strong language warning.