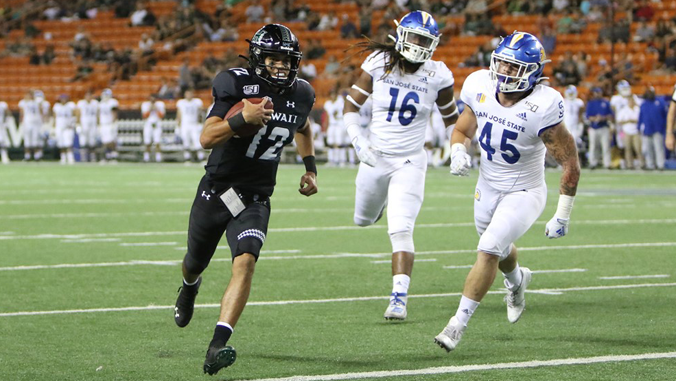 The University of Hawaiʻi football team (3-3) will now host San Jose State University (SJSU) (4-0) at Aloha Stadium on Saturday, December 5. The game was originally scheduled to be played at San Jose, but new COVID-19 guidelines in Santa Clara County prompted a change in location.
The change was announced Tuesday afternoon. Santa Clara County, where SJSU plays its games, declared a temporary ban on contact sports. California is currently seeing its worst outbreak of COVID-19. San Francisco and San Mateo also initiated similar measures.
"We explored many venue and date options for this game over the last 48 hours. Moving the game from San Jose to Honolulu became the best option based on our county and the state's current public health directives. We want to thank many people who were involved in the decision-making process and there were many—our university administration, the Mountain West office and the conference schools that offered their support," said SJSU Athletics Director Marie Tuite.
While the SJSU Spartans remain the "home" team, it gives the Warriors an extra game at Aloha Stadium.
Kick off is TBD and will be broadcast by Spectrum Sports. Fans outside Hawaiʻi can watch the game for free on the Team1 Sports app while in-state viewers may watch it on Spectrum Sports Pay-Per-View (Spectrum Ch. 255/HD 1255 and Hawaiian Telcom Ch. 969).
Read more about the matchup between the Warriors and Spartans.