Hawaiʻi has an urgent need for walkable, sustainable and equitable housing that can improve the lives of local communities. In a collaborative design between the University of Hawaiʻi Community Design Center and Hawaii Public Housing Authority (HPHA), a micro-architecture called "Lawn Loungers" received a Honolulu Design Award, in the institutional category from the American Institute of Architects (AIA) Honolulu.
The project was led by Karla Sierralta, an assistant professor in the UH Mānoa School of Architecture, Brian Strawn, a senior research associate in the UH Community Design Center, and included nine student research assistants and two post-graduate staff.
Lawn Loungers are part of the "Future of Hawaiʻi's Housing" research project, developed in partnership with HPHA. Lawn Loungers are portable spaces for community engagement that can travel around the island, inviting the community to participate in the design process of future housing on Oʻahu.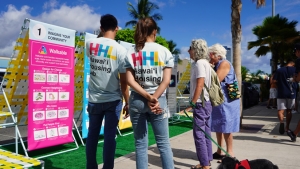 "This project is an example of a successful collaboration between public agencies on public interest design through the UH Community Design Center," said Sierralta. "It demonstrates to students and recent grads that working on real-world problems, oriented toward the needs of government agencies, can achieve design excellence."
Source of inspiration
This project was inspired by the everyday lawn chair. Like lawn chairs, these micro-architectures are familiar, approachable, humble, playful, welcoming and comfortable. The assembled sets are double-sided and provide a space for talking story on one side and a space for posters and community engagement tools on the other. The Lawn Loungers were fabricated at the School of Architecture 3D Fabrication Lab with the help of Steve Hill, 3D lab director.
"The jurors said this project is a simple and considerate urban intervention, small in scale but large in idea, to encourage the engagement of the public on larger community issues," said Strawn.
Community collaboration
The project is one of several components of a community engagement toolkit designed to travel into neighborhoods and form pop-up spaces where residents can come together to share their ideas about future housing. The toolkit also includes three other interactive tools, a digital app that allows citizens to design their ideal neighborhoods in real-time and two card games that ask the community what aspects are most important to them.
The UH Community Design Center team worked in close collaboration with HPHA Executive Director Hakim Ouansafi and his team of experts.
"The community-centered approach that the UH Community Design Center is bringing to the project is allowing us to speak more directly with future residents across Hawaiʻi," said Ouansafi. "This is especially important for new mixed-use, mixed-income developments along the rail which will potentially include affordable, market rate, and public housing units alongside retail and civic spaces. The expertise across the University of Hawaiʻi provides us with multiple lenses for looking at one of the most complex issues facing us in Hawaiʻi today."
More information about the toolkit can be found online.
–By Sarah Hendrix