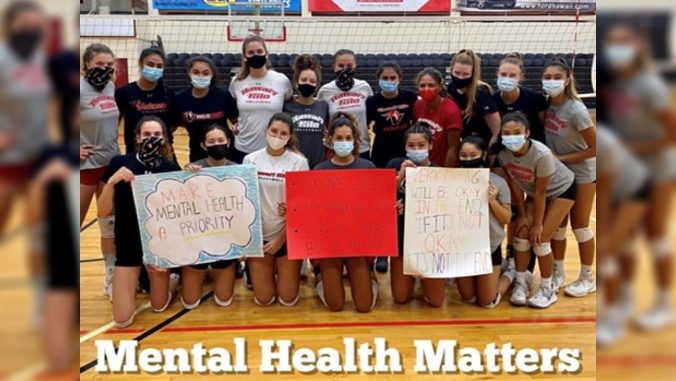 The COVID-19 pandemic has taken a mental toll on many people in Hawaiʻi, and University of Hawaiʻi at Hilo student-athletes are encouraging the community to prioritize their mental well being through the Anti-Stigma Project.
The Anti-Stigma Project was developed by the UH Hilo Suicide Prevention Program to help get students to talk about mental health without fear or judgment. The project was supported through the national government organization Substance Abuse and Mental Health Services Administration.
Alongside their UH Hilo ʻohana, the Student-Athlete Advisory Committee (SAAC) got involved to help bring the message back to their own teams. UH Hilo students created videos, photos and posters designed to encourage others to reach out for help if needed.
"I was ecstatic that SAAC took the initiative to help break the stigma of mental health on our campus," said UH Hilo SAAC advisor Jamison Montgomery. "Positive mental health is something that we are all challenged with, and we should not be ashamed or discouraged to talk about these things. I am truly fortunate to work with such aware and strong student athletes."
Vulcans teams that got involved included the men's and women's golf teams, the volleyball squad, the men's basketball team and the women's cross country team.
"We hope that the stigma of talking with a friend, roommate or teammate about mental health becomes a thing of the past," Montgomery added. "Mental health matters, and it is important that we feel free to check in with each other."