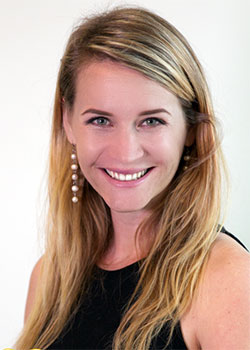 A University of Hawaiʻi at Mānoa PhD student was selected as one of the 2020 Learning Guild Thirty Under 30. The international award recognizes emerging leaders within private and public corporations and seeks to provide support, visibility, voice and development for the next generation of learning leaders.
Natalie Perez is a senior instructional designer and program manager at Amazon and a student in UH Mānoa's College of Education (COE) Department of Learning Design and Technology (LTEC). She previously served as the online learning and support coordinator at UH West Oʻahu and has directed other distance education programs within the UH System.
Passionate about education, she says she loves UH, having also earned her master's in the LTEC department, an associate's degree from Leeward Community College and a bachelor's degree from UH West Oʻahu, where she worked as a tutor in the Noʻeau Center.
"The university has had such an incredible impact on me, and it has really helped to build my skill set and prepare me for my work," Perez stated. "After finishing my MEd and coursework for my PhD in LTEC, I consider myself an advanced instructional designer. It was the right decision x100 to join the COE, one of the best choices I've made for my career!"
Perez was selected through a rigorous application process, based on the following criteria: contribution to and leadership in the learning and development profession; career history and progression; contributions to the Learning Conference and/or Learning community; use of thought leadership; and alignment with Learning's program core values.
LTEC Chair Michael Menchaca said, "I cannot think of a more deserving recipient for this distinction than Natalie! As a graduate of our master's program, she has excelled and her culminating project on designing online training for tutors provided a model that still applies. Her scholarly knowledge together with her practical skills have allowed her to develop both scholastically and professionally."
Beyond her work at Amazon, Perez runs Wahine ʻIke Loa, a non-profit program that seeks to empower women and children via motorsports.
The other young professionals on this year's list come from countries such as Dubai, Denmark, Australia, Italy and the U.S., and work for NASA, the Department of Homeland Security, Adobe, Harvard and Ferrari to name a few.
Perez concluded, "It's incredible to have been chosen among such a highly successful group of people. For me, this award means that I am capable and have been well-equipped to be a leader in the learning and development field. I have learned so much from my extensive work and academic experiences within the University of Hawaiʻi, and my wonderful colleagues, mentors and faculty have been instrumental to my success."