The University of Hawaiʻi Tropical Medicine Clinical Laboratory (TMCL) is ramping up operations to meet its mission of providing free, rapid result (24–48 hours) COVID-19 testing to those with limited access to healthcare and health insurance, as well as to first responders and health care workers on the frontlines of the pandemic. Opened in October 2020, TMCL is a certified lab at the UH Mānoa John A. Burns School of Medicine (JABSOM) established through a City and County of Honolulu/UH partnership with funding from the federal CARES Act.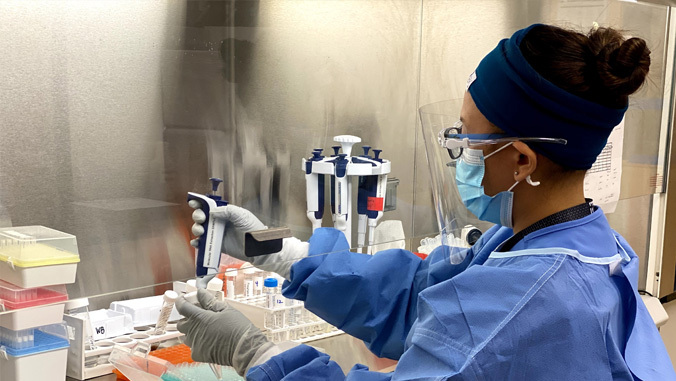 "Our goal is to make sure that we can provide such tests to our community as soon as possible, making diagnosis and detection faster," said TMCL principal investigator Vivek Nerurkar, professor and chair of the JABSOM Department of Tropical Medicine, Medical Microbiology and Pharmacology.
TMCL is developing and leveraging partnerships with community health centers and community organizations to reach underserved populations that include Filipinos, Pacific Islanders and the houseless. As of early December, the lab is processing about 70 tests per day from walk-ins at the community health centers alone.
"We are providing focused testing in these communities and have been successful through our partnerships with trusted organizations who are critical in encouraging people to come out and get tested," said Rosie Alegado, a UH Mānoa associate professor of oceanography who serves as the lab's community liaison lead. "We are intent on continuing to build relationships with grassroots community organizations to get these services to people who need it."
That includes on-location testing events in the communities where the underserved reside. At one recent event in November, about 60 Pālolo Valley Homes residents were tested at the public housing complex in collaboration with the Waikīkī Community Health Center, Pacific Islander Service and the Honolulu Bible Church. With the rapid test results and community groups in place, a family with a positive test result was provided immediate assistance including a Waikīkī hotel room to quarantine and testing for extended family members and other close contacts. Health experts say the virus can spread quickly in these types of communities if not aggressively addressed.
"If we're going to stamp out COVID-19 in areas and communities with disproportionate infection rates, a high level of face-to-face care has to be given," said Alegado. "This requires a network of interfacing services."
TMCL is also providing houseless individuals with free COVID-19 testing through JABSOM's Homeless Outreach and Medical Education Project, where UH medical students and faculty provide free health services to unsheltered populations. Planning is underway with the University Health Services Mānoa to provide up to 200 tests a week to UH Mānoa students, faculty and staff, and to dental hygiene and medical students so that they are able to return to clinical training.
"The COVID-19 testing is meeting an immediate need, which we are honored to be able to provide," said Nerurkar. "This is just the beginning. The lab's long term goal is to enhance Hawaiʻi's capacity to track emerging pathogens and develop diagnostic tools to detect tropical diseases such as dengue, Zika and rat lungworm."
Visit the TMCL website for information on how to get a COVID-19 test and for upcoming community testing events.