Japanese and Korean cuisine creations by University of Hawaiʻi culinary students will be highlighted in 7-Eleven Hawaii stores for a limited time in 2021. In December, eight UH culinary students from Kapiʻolani and Leeward Community Colleges competed in 7-Eleven Hawaii's third annual contest to produce a better-for-you bento or entrée.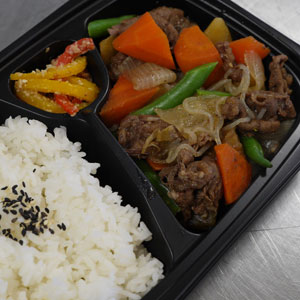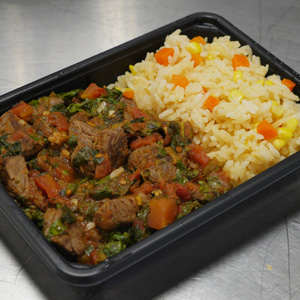 Two exciting dishes tied for first place: Kapiʻolani CC student Eri Abe's Wafu ʻUlu Stew and fellow student Jeongyeon Shim's Tteokbokki, Spicy Rice Cake Stir-Fry.
"I hope people taste this bento," Abe said. "Many people don't know breadfruit like ʻulu, so I want people to know about the vegetables."
Shim said, "I am very honored and I look forward to the process of actually taking this to the customers in the full cycle of product development, which is also another big challenge and a good learning opportunity."
Abe and Shim won $1,000 each. In addition, Abe's Wafu ʻUlu Stew will be featured as a Localicious® dish and a portion of the proceeds will benefit the Hawaiʻi Agricultural Foundation.
Good exposure
Lauren Tamamoto, Kapiʻolani CC Culinary Innovation Center coordinator, said, "To see your dish at a store or many stores in Hawaiʻi, I think that's pretty cool and I think it's a good experience, good exposure for students."
Kapiʻolani CC student Socorro Jiho came in third place and won $750 for her dish, Bistec A La Mexicana con Arroz Primavera.
Other finalists and their dishes included:
Chris Fujimoto (

Kapiʻolani

CC), Salsa Chicken with Beans and Rice
Elijah Madayag (

Kapiʻolani

CC), Shrimp Pinakbet
Kaleb Molina (Leeward CC), Kalua Pork Hash Patties
Owen Saito (

Kapiʻolani

CC), Ginger Miso Salmon Bento
Kevin Wu (

Kapiʻolani

CC), Betty's Beef Noodle Soup
Win-win for all
This is the third year that 7-Eleven Hawaii has sponsored the "On the Line" culinary competition at UH. Criteria for this year's entries included:
Fits in a standard 7-Eleven Hawaii entrée container
No more than 700 calories per entrée/bento
"Good Source of Fiber" 5 or more grams of fiber per entrée/bento
Less than 10 grams fat per entrée/bento
Must contain a minimum of two locally grown, caught or raised products
Must be able to be displayed in a warmer for four hours without compromising flavor or appeal.
"It's a win-win for all of us," said Debbie Lee Soon, 7-Eleven Hawaii senior category manager. "They get the award. 7-Eleven gets a great dish to introduce to our customers. And we are using local ingredients, which helps the local agriculture industry."