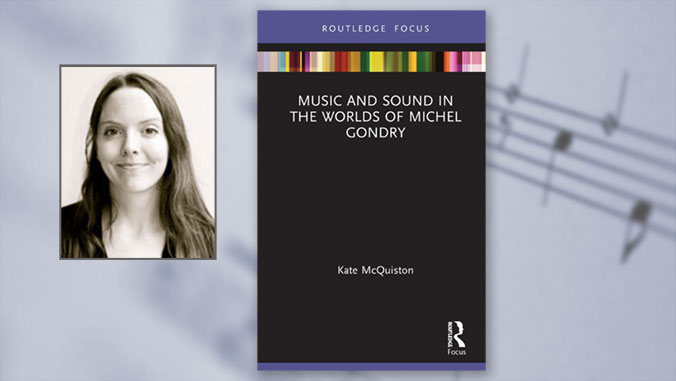 Academy Award-winning French director, screenwriter and producer Michel Gondry's use of music and sounds is spotlighted in a new book by a University of Hawaiʻi at Mānoa professor. Music Department Professor Kate McQuiston explores Gondry's work, including Oscar-winning film Eternal Sunshine of the Spotless Mind, The Science of Sleep, and other music videos, commercials and documentaries.
"Michel Gondry provided an intriguing case as a director who began his work in music videos—a genre predicated on music—and grew into feature films and commercials," McQuiston said. "I wanted to find out how his musical starting point manifested across these genres, and what it revealed about the ways we watch and listen to them."
McQuiston's book features case studies that track Gondry's sonic and musical treatment of recurring dramatic themes, which often involve the psychological and emotional experiences of the characters. It also reveals how Gondry uses his work as a way to advocate for music as a participatory and democratic activity, from promoting the musical artists he admires (particularly in jazz and hip hop) to appearing as a musician himself in promotional events connected to his work, including writing an original pop song for his most recent feature film, Microbe et Gasoil.
"I discovered that some of the most compelling effects in Gondry's work come from the input of orchestrators or other creative personnel, prompting me to call Gondry not an 'auteur' but a 'collaborateur,'" McQuiston said. "His deference to musicians and musical characters in his films is a notable feature of his work."
Music and Sound in the Worlds of Michel Gondry is available for purchase online.