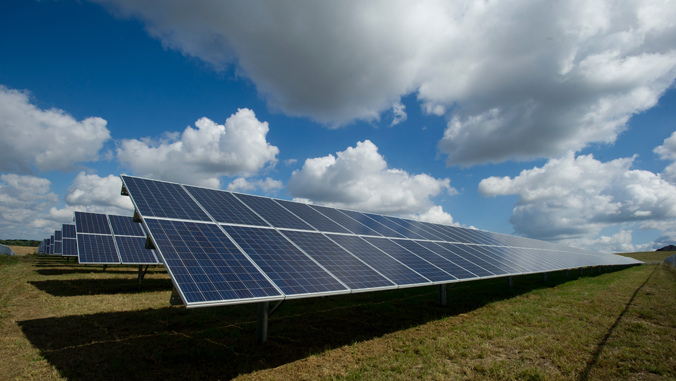 The University of Hawaiʻi and Hawaiian Electric have agreed to collaborate on a "green tariff," an innovative renewable energy initiative, to help the university achieve its goal of net-zero energy by 2035 and bring online more cost-effective, renewable energy resources to benefit the entire state. A request for review and approval of the "green tariff" was submitted to the Public Utilities Commission on Wednesday, December 9, 2020.
The initiative aims to develop a project to lower energy costs for the university and increase overall renewable energy generation for the state. Moving to cost-effective renewable electricity is a core priority for UH, according to UH President David Lassner.
"Our goals are to reduce our dependence on fossil fuels, lower our utility bills and fulfill our leadership responsibility and commitment to the future for our students, the university and Hawaiʻi," said Lassner. "UH is grateful to Hawaiian Electric for its collaboration to find a solution that can work for both organizations."
Key elements of the proposed program include:
The university will provide a project location at no cost for a renewable energy facility. A university-utility working group is evaluating sites for possible renewable development.
Hawaiian Electric will seek independent developers who will compete to offer the best proposals to build a renewable facility, including energy storage, on that land to provide power to the

Oʻahu

utility grid.
The university will benefit from the lower costs provided by renewably generated and stored electricity produced by the facility, which can be used to support the

Oʻahu

utility grid, as needed.
The HECO "green tariff" partnership is just one of UH's continuing efforts across the 10-campus system to promote energy efficiency that includes use of rooftop solar, demand-response grid services and other measures. Earlier this year, Leeward Community College became one of the first virtually net-zero campuses in the country, generating 97% of its energy through on-site PV systems and storage. Windward CC announced in September that it was generating 70% of its energy through PV and storage. UH Maui College, Honolulu CC, Kapiʻolani CC and Windward CC will soon be reducing their fossil fuel consumption by up to to 98%.
Lassner said UH is committed to lowering operating costs, particularly in these difficult times with the COVID-19 pandemic as state support for public higher education is shrinking and family budgets are highly challenged.
"With some of the highest electricity rates in the country, UH now pays its electricity bills primarily with tuition paid by students and their families," said Lassner. "At UH Mānoa, electricity costs represent an average of over $1,500/year for every student enrolled. UH is working actively to contain and hopefully drive that cost down through a variety of measures including energy conservation, demand reshaping, public-private partnerships, and now this innovative new tariff."
In 2015, Hawaiʻi became the first state in the country to make an unprecedented commitment to achieve 100% renewable energy by 2045. Concurrently, UH and the Hawaiʻi State Legislature established a collective goal for the university system to be "net-zero" by January 1, 2035, meaning the system would produce as much renewable energy as it consumes across its 10 campuses.