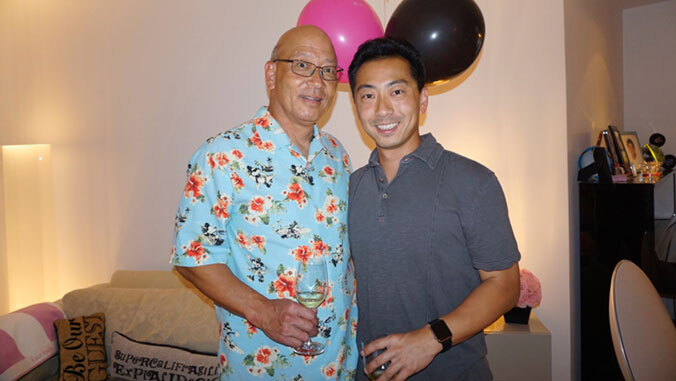 While the National Institutes of Health has concluded that the nation is failing to attract too few young physicians into scientific exploration, the University of Hawaiʻi at Mānoa John A. Burns School of Medicine (JABSOM) has seen an uptick of medical students with a penchant for research.
With six years of research at UH under his belt, and now a first-year medical student at JABSOM, Trevor Torigoe understands the difficulties endured by both medical and graduate students. He is expected to graduate with his MD and PhD in 2024, among several of his colleagues also aspiring to become physician-scientists at JABSOM.
"The demands that graduate PhD students undergo are different from the trials of medical school, and demanding in their own way. Research is studying the unknown, developing a hypothesis, collecting and analyzing data, and publishing your research. The exams are different, medical students take national board exams and PhD students take qualifying and comprehensive exams," said Torigoe.
Torigoe's career path was a winding road, but a special conversation with his father helped him to figure out what he wanted to be.
Inspired by his father
Torigoe remembers growing up with admiration as he watched his father, Torin Torigoe, a dentist, care for patients. One night, his father shared that what mattered most to him throughout his career in dentistry was not simply caring for his patients' teeth, but it was the patients themselves. Being trusted enough to be a part of their lives, and ultimately, their families, is what makes his work so rewarding.
According to Torigoe, the patients that were children when his father first began practicing eventually grew up, started their own families and returned to his father, entrusting him with a new generation of patients and their most prized treasures—their kids.
"I flashed back to memories of my childhood. watching him work and smiling at how everything is coming full circle. It would be truly humbling to be able to become a physician and serve families in the same manner as my father," Torigoe said.
His father also served as a dentist for UH Athletics. During his high school years, Torigoe accompanied his father to work at the UH Athletics facilities, where he was welcomed into the medical staff family by longtime UH Head Athletics Trainer Eric Okasaki and Andrew Nichols, head team physician emeritus. Trevor credits much of his fascination with research, science and medicine to Okasaki and Nichols and watching them in action.
"Mr. Okasaki and Dr. Nichols were influential in helping me start my research in ligaments and biomechanics with UH and introduced me to other researchers who would end up being special mentors I have trusted with every step of my career path, from a masters to a PhD, and finally medical school," Torigoe said.
Research on longevity gene
His current research focuses on the gene FOXO3 associated with human longevity. The original publications linking the gene and its effect on longevity in the human population came from the UH group that he works with. Recently, the research group demonstrated that a specific variation in the gene's sequence is associated with longevity and healthspan, as well as a mechanism of cellular aging.
Torigoe added, "My goal as a practicing physician is to continue pushing medical innovation using insights from my practice, and the training I have been receiving throughout my PhD program provides me with a foundation to hybridize the cellular mechanisms of novel technologies being developed and the applications to which they can be used in practice to make people's lives better."
Torigoe's story is the first part of a series featuring JABSOM medical students who are working on or have already earned their PhDs. Read more on the JABSOM website.
—Deborah Dimaya