President-elect Joe Biden promises a robust national response to the COVID-19 pandemic when he takes office on January 20. But with the virus raging and widespread vaccination still months away, what can be done?
To assess the path forward, the University of Hawaiʻi's Better Tomorrow Speaker Series will feature a live online conversation with former U.S. Surgeon General and co-chair of Biden's COVID-19 task force, Vivek Murthy.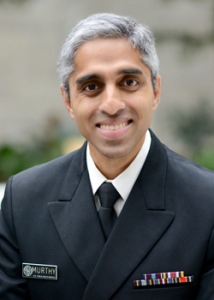 The livestream conversation, Together in Crisis, will be held on Wednesday, January 6 at 4 p.m. HST. The interview will highlight the development of a national COVID-19 vaccine strategy, as well as efforts we can all take to counter a pre-existing epidemic of division and disconnection.
Other guests include: Maya Soetoro, UH alumna and consultant to the Obama Foundation; Kealoha Fox, UH alumna and senior manager of social health integration for AlohaCare; and Lt. Gov. Josh Green.
The livestream event is open to the public. (Submit questions and register here.)
" Vivek Murthy is a voice of experience, integrity and compassion," noted UH Mānoa Provost Michael Bruno, who spent time with the former surgeon general when he served as UH Mānoa commencement speaker in 2017. "We welcome his leadership to address this ongoing public health emergency."
More on Murthy
In addition to co-chairing the COVID-19 Advisory Board, Murthy has been nominated by Biden to return to his post as surgeon general, where he previously launched initiatives to address the opioid crisis and to alleviate chronic stress and isolation. A specialist in internal medicine, Murthy received MD and MBA degrees from Yale and conducted research on vaccine development and clinical trials. His book, Together: The Healing Power of Human Connection in a Sometimes Lonely World, is a New York Times bestseller.
Murthy was also the 2017 UH Mānoa commencement speaker.
The Better Tomorrow Speaker Series is a joint venture of the Hawaiʻi Community Foundation, Kamehameha Schools and UH. Lead sponsors of this event include the John A. Burns School of Medicine, Hawaiʻi Pacific Health and The Queen's Health Systems. Co-sponsors include Kanu Hawaiʻi, UH Alumni Relations, Scholars Strategy Network and the UH Mānoa Office of Public Health Studies.
For more information, visit the UH Mānoa Better Tomorrow Speaker Series website or email: btss@hawaii.edu.