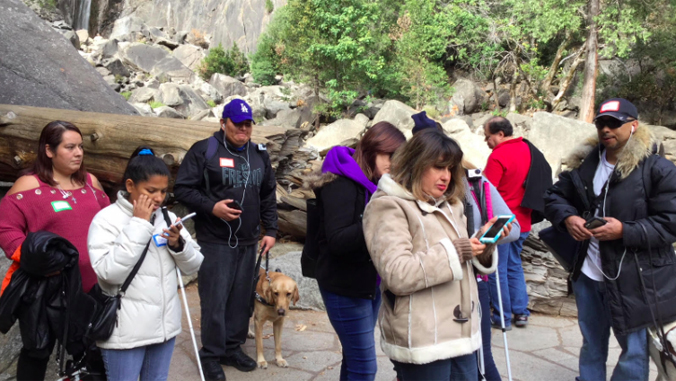 Two University of Hawaiʻi at Mānoa projects received major boosts by the National Endowment for the Humanities (NEH).
A $350,000 grant will go to the Department of American Studies and the East-West Center to host a summer institute for Native Hawaiian and Pacific Islander museum professionals, and a $296,203 grant will support a project by the School of Communications in the College of Social Sciences to expand audio description services nationwide for the blind and visually impaired. These projects are among 213 supported by $32.8 million in grants from NEH.
Summer museum institute
"Weaving a Net(work) of Care for Oceanic Collections: A Native Hawaiian and Pacific Islander Museum Summer Institute" is a six-week program to provide education and training for early- to mid-career Native Hawaiian and Pacific Islanders working in museum and heritage centers throughout the Pacific. The institute will focus on museum management and collections care for institutions, professionals and communities that care for Oceanic collections.
"This project results from a collaborative partnership with the East-West Center Arts Program and the Pacific Islands Museums Association, as well as dozens of museums, cultural institutions, heritage sector professionals and other supporters across the Pacific," said Noelle Kahanu, assistant specialist and project director. "The enthusiasm was overwhelming and we look forward to jointly hosting this institute."
Audio description project
"Improving Audio Description, Improving Access to the Humanities" is a three-year project led by Associate Professor Brett Oppegaard, which will perform in-depth research of the founding principles of audio description (the act of translating visual media into audible media for the blind or visually impaired).
This is an extension of Oppegaard's UniDescription project. Since UniDescription's launch in 2014, more than 100 U.S. National Park Service (NPS) sites have collaborated with the project, including the Lincoln Memorial, Jefferson Memorial, Martin Luther King, Jr. Memorial, World War II Memorial and Eisenhower Memorial, which opened in September 2020. With this NEH award, the project has been supported by more than $1 million in external grants, including funding from the NPS, the National Endowment for the Arts and Google. This is the third NEH grant earned by Oppegaard during his career.
"This grant will enable our research project to make a major leap in international significance in the field of audio description," Oppegaard said. "But even more importantly, it is an opportunity to make major U.S. public resources, like national parks, more accessible to people who are blind or visually impaired. These citizens should be welcomed to our country's most-precious public places, like anyone else, and that starts with making these sites accessible to all."
The UniDescription project began as a partnership with the NPS in 2014. That enduring collaboration has been central to its development, and the NPS already has committed to supporting the project for the next few years.
These research projects are examples of UH Mānoa's goal of Excellence in Research, one of four goals identified in the 2015–25 Strategic Plan, updated in December 2020.
—By Marc Arakaki
Related UH News stories: