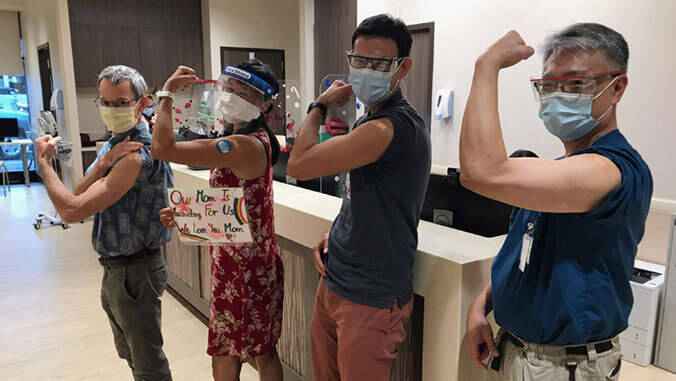 The iconic image of Rosie the Riveter with her sleeves rolled up, flexing her biceps above the bold words "we can do it" circulated throughout the United States during World War II as women were recruited to fill in the gaping holes of the country's workforce created by male enlistment. Rosie the Riveter became an American symbol of strength in unity, and today, her likeness has reappeared on social media to encourage a united front in the battle against COVID-19.
Chien-Wen Tseng, a family physician and professor at the University of Hawaiʻi at Mānoa John A. Burns School of Medicine (JABSOM), posted a photo of her and her colleagues, Seiji Yamada, Thomas Quattlebaum and Allen Hixon, showing off the band-aids on their just-vaccinated arms, imitating Rosie the Riveter. They join many other healthcare workers across the the U.S. who have been posting their vaccination selfies on social media along with the popular hashtag, #thisisourshot.
By the first week of January 2021, more than 25,000 COVID-19 vaccines had been given to doctors, nurses, pharmacists and other healthcare providers in Hawaiʻi.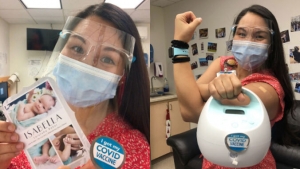 Nina Baker, a family medicine resident at JABSOM, posted a powerful selfie of her own: She throws up a Rosie the Riveter flex while a "I got my COVID-19 vaccine" sticker is proudly displayed on the front of an electric breast pump. She understands that the decision to become vaccinated is a profoundly personal one that requires a deep sense of trust in science. As both a family physician and new mom, Baker chose to become vaccinated to keep her patients, colleagues and ʻohana safe, especially her baby girl Izzy.
"Knowing there was a possibility of creating protective antibodies to pass to Izzy through breast milk if I got vaccinated, I saw this as an opportunity to protect her, to protect my body and to protect those around me," Baker said.
Tseng said receiving a COVID-19 vaccine could be "our shot to end the pandemic" but it can't be done alone. Achieving herd immunity will take a collective effort from the majority of the communities in Hawaiʻi and across the nation.
After recently receiving her second COVID-19 booster shot, Tseng looked back at a photo of herself receiving the first vaccine shot while holding in her hands a colorful paper sign that her children made for her. She smiles thinking about her kids, whose lives have been turned upside down by the pandemic and how they haven't complained once. In bold marker, the sign reads: "Our mom is vaccinating for us. We love you mom."
"My kids are so proud of me. They understand that the COVID-19 vaccine is going to be like masks and social distancing—we do it to keep ourselves and those we love safe," Tseng added.
Read more on the JABSOM website.
—By Deborah Dimaya
UH Mānoa is committed to Excellence in Research: Advancing the Research and Creative Work Enterprise (PDF), one of four goals identified in the 2015–25 Strategic Plan (PDF), updated in December 2020.