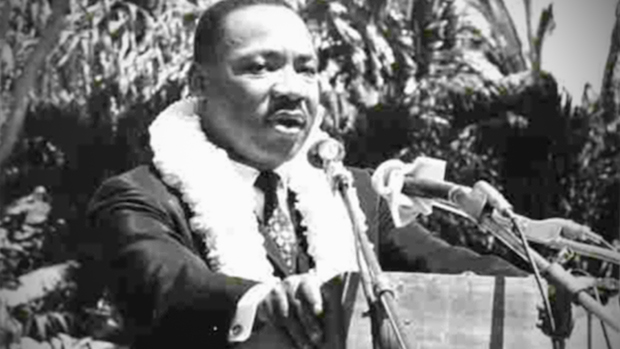 The following message was sent to the University of Hawaiʻi at Mānoa campus community on January 18, 2021 by Provost Michael Bruno.
Aloha UH Mānoa ʻohana,
The last couple of weeks have brought about intense reflection on who we are, as a campus and as a country, as we grapple with the horrific events in Washington, D.C. This reflection is made even more intense and meaningful this week as we commemorate the 128th anniversary of the overthrow of the Hawaiian Kingdom, and the celebration of Martin Luther King, Jr. Day.
As many of you know, Tuesday, January 19 marks the National Day of Racial Healing. Coming as it does one day prior to Inauguration Day, this day brings us hope for peace and social justice, but at the same time recognition of the difficult work that lies ahead to turn this hope into reality.
Like many of you, I watched in horror the violent insurrection that besieged the capitol as our lawmakers were undertaking what most of us consider one of their sacred duties: the certification of the electoral college votes for the President of the United States. And, like many of you, I have been reflecting on how we got here.
It is tempting to dismiss the events in Washington D.C. with a sense of disconnect, or with the adage, "lucky we live in Hawaiʻi." Doing so, however, would ignore the painful fact that in this beautiful place, there was also a violent insurrection that overthrew the Hawaiian Kingdom. The irony of watching from Hawaiʻi what many of us viewed as the attempted overthrow of the United States was painfully clear.
How did we get here? Martin Luther King, Jr. once said, "A man dies when he refuses to stand up for that which is right. A man dies when he refuses to stand up for justice. A man dies when he refuses to take a stand for that which is true." While we all hold dear the righteous value of freedom of speech, its value becomes diminished and even distorted if, by our silence, we allow hate speech and misinformation to go unchallenged. We all have a kuleana to stand up for social justice, truth, respect and decency.
I am sure that many of you are aware that the founder of the Proud Boys Hawaii, a UH alumnus, was arrested for his participation in the riot. During his time with us, he exercised his right to free speech by agitating against students and faculty, recruiting members, and propagating the beliefs of the Proud Boys. Many feel that the UH administration failed in this moment; that we legitimized beliefs of white supremacy by allowing the Proud Boys to have a voice on our campus. Others feel that the university appropriately followed its procedures and policies. Which perspective is correct? It is possible that both perspectives are correct. But we have to ask ourselves: are our existing policies and procedures up to the task of protecting the right to free speech while also ensuring that we stand up for social justice, truth, respect and decency?
It is imperative that we take this moment to examine ourselves as well as our institution and commit to making the difficult choices and changes necessary to chart a path forward. Over the spring and summer, we will undertake a critical assessment of our policies and procedures with an eye towards equity and anti-racism through the work of the UH Mānoa Commission on Racism & Bias at the campus level, and through our participation in the Equity Action Framework with the National Association of System Heads (NASH) at the UH System level. The purpose of the NASH Equity Framework is "to promote explicit and sustained engagement with equity, inviting NASH members to look deeply into the mirror in order to examine and act on the role of university systems in addressing systemic inequities that are institutionalized, however unintentionally, within our colleges and universities that so many have worked hard and long to make bastions of student access, opportunity and success." We look forward to sharing our progress with you in the months ahead.
As we undertake the difficult work of self reflection and assessment, we must also put our efforts into healing our community. On Tuesday, January 19, the National Day of Racial Healing, I urge you to take advantage of the activities and resources available through our Truth, Racial Healing and Transformation Campus Center work. A webinar on this important work is scheduled for Tuesday, January 19, 1–2pm. We invite you to register online to join the discussion.
I want to close by saying thank you, each and every one of you, for all that you do to make this university a great and special place. It can sometimes feel like the challenges we face together are daunting and never ending. But I believe that together we will emerge stronger. Again, we hope for peace and social justice. Our actions this year and beyond will make that hope a reality.
Mahalo,
Michael Bruno
UH Mānoa Provost