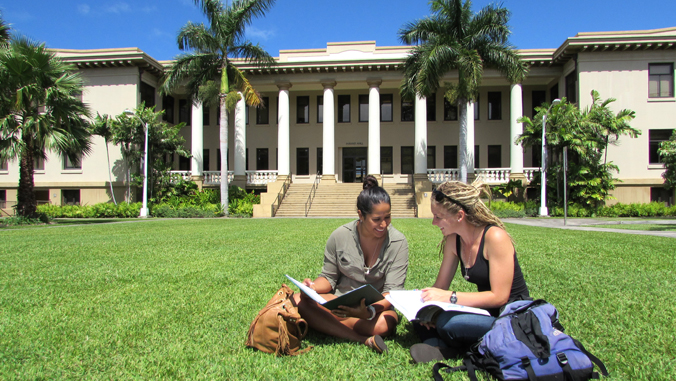 University of Hawaiʻi at Mānoa faculty and staff are encouraged to participate in the National Survey of Student Engagement (NSSE) virtual symposium: "NSSE 2020 at UH Mānoa: From Record High Response Rate to Innovative NSSE Data Tools." The NSSE is used to measure levels of student engagement at universities across the U.S. and Canada.
The information sessions will walk participants through the key findings from the NSSE results, a demonstration of the Mānoa Institutional Research Office's (MIRO) data tools and how they can be utilized for multiple purposes, the strategies behind the record high survey response rate, and a panel discussion with invited speakers sharing insights on how NSSE data can be used.
NSSE was administered to UH Mānoa students in February 2020, and the results provide rich data on how students feel about their campus environment, academic challenges, experiences with faculty and several other categories. UH Mānoa achieved a record-high 52% survey response rate.
MIRO's information sessions are on Thursday, January 28, 11:30 a.m.–2 p.m. HST. For more details and to register, visit MIRO's virtual symposium webpage.
"We developed a series of NSSE data tools in 2016 to allow units and academic programs to quickly get access to customized NSSE results," MIRO Director Yang Zhang said. "After years of continuous improvements, these robust data tools can help users easily generate reports of their desired student group, make comparisons among academic departments and create multiple-year comparison reports. Accessing and using NSSE data is easy and fun."
The interactive data tools are available to UH Mānoa faculty and staff through MIRO's decision support system. The data tools are a pioneering effort in the field of institutional research and a valuable resource for UH Mānoa to use data for decision-making and improvements.
Examples of effectively using NSSE data
The mission of the UH Mānoa Assessment and Curriculum Support Center is to improve student learning through academic program assessments—collaborative processes that include faculty, students, staff, administrators and others.
"NSSE data has been a valuable source of indirect evidence of student learning at the institution level. It is particularly helpful in assessing student values and dispositions such as respect for cultures, civic engagement, and continuous learning and personal growth," said Yao Zhang Hill, an associate specialist and one of the session presenters. "Even at the program level, faculty can use NSSE data as a starting point of the conversations when investigating their student learning outcomes achievement."
The Office of Civic and Community Engagement (OCCE) has used NSSE results to advocate and create service learning and civic engagement programs.
"NSSE has been helpful to the OCCE by providing us with information on how well our freshman and senior students at UH Mānoa have been receiving and participating in the service learning and civic and community engagement offerings we have worked to provide for them," said Atina Pascua, OCCE director, an assistant professor and one of the session presenters. "We are very pleased with our past and current results on the NSSE, but know that this information is useful for our continuous improvement of program offerings."
This effort is an example of UH Mānoa's goal of Enhancing Student Success (PDF), one of four goals identified in the 2015–25 Strategic Plan (PDF), updated in December 2020.
—By Marc Arakaki
Related UH News stories: