The usually bustling Pāʻina Building—home to University of Hawaiʻi Maui College's award-winning Culinary Arts Program—has been quiet for almost a year now. There is no food service in either the cafeteria or in The Leis Family Class Act Restaurant.
The program is one of very few requiring some face-to-face instruction (with strict adherence to all Centers for Disease Control and Prevention COVID-19 health and safety protocols), so there are students cooking a few days a week on campus.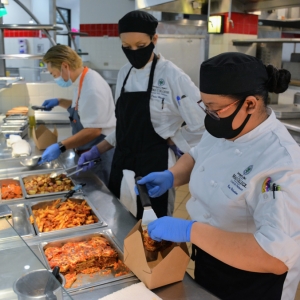 "We have full cohorts of 10 students each in both our intermediate and batch cookery classes," said Program Coordinator Teresa Shurilla, who is also an award-winning pastry chef. "There was a lot of food…and no one to enjoy it."
Chef Instructors Noel Cleary and Peter Pak suggested the classes provide free lunches for some of the students who needed to be on campus, and to the volunteers at the COVID-19 Vaccination Clinics being held at least twice a week in the college's parking lot. Everyone involved loved the idea.
The service started in January and is working out perfectly—both for the cooks and the outdoor diners. Offerings include dishes such as pork ragu and eggplant parmesan complete with side dishes and even some sweet treats prepared by the baking classes.
"It's another example of the way we can successfully partner with the community to everyone's benefit," said Chancellor Lui Hokoana. "The food not only looks good but it's delicious, too. The care with which the students pack the lunch boxes and serve their food shows how much pride they take in what they do, and how happy they are that their food is being enjoyed."
The program is hoping to expand the service to include faculty and staff soon.