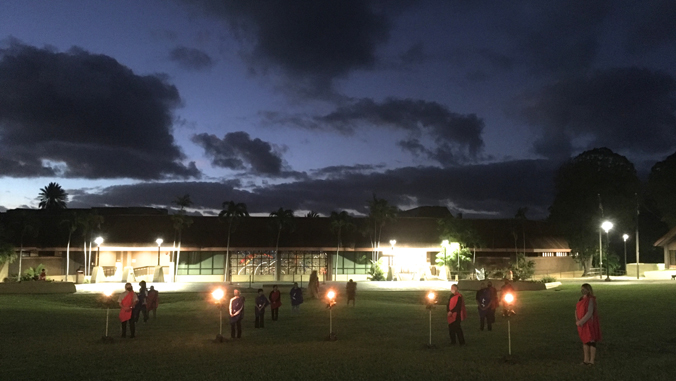 Kapiʻolani Community College marked the start of its 75th anniversary celebration with a sunrise ceremony on the campus' great lawn.
On February 12, 2021 at precisely 5:48 a.m., which was nautical twilight, Kapiʻolani CC Dean Nāwaʻa Napoleon lit a torch at the center of the lawn to begin the solemn ceremony. Kīhei-clad participants in the physically distanced event included University of Hawaiʻi President David Lassner, Vice President for Community Colleges Erika Lacro, former Vice President for Community Colleges and Kapiʻolani CC Chancellor John Morton and Chancellor Louise Pagotto.
"We look forward to celebrating this milestone year and thank all of the students, faculty and staff who have contributed to developing Kapiʻolani CC into an educational and community leader," said Pagotto. "We continue to build upon our shared vision of a model indigenous serving institution whose graduates strengthen the social, economic and sustainable advancement of Hawaiʻi and the world."
Kapiʻolani CC opened in 1946 as the Kapiʻolani Technical School at a time when Hawaiʻi was still a territory of the United States. The innovative school was administered by the Territorial Department of Instruction with a strong academic focus on food service. In 1959, as Hawaiʻi was entering statehood, three additional programs were added: practical nursing, business education and dental assisting. In 1965, the college realigned its academic mission and joined the UH System.
From its original home at the corner of Pensacola Street and Kapiʻolani Boulevard, the college moved to its current location on the slopes of scenic Diamond Head in the mid-1980s. The campus' technical, professional and occupational programs have garnered national attention with a cross-cultural emphasis on innovation and diversity. UH's Culinary Institute of the Pacific on the slopes of Diamond Head, which is completing Phase 2 construction, is administratively attached to Kapiʻolani CC.
Next up in a string of 75th birthday events, Pagotto will speak on the history of Kapiʻolani CC as part of the Kaiāulu Webinar Series on February 25.
Credit: Karl Naito