Every semester, students of Leeward Community College's Culinary Arts program participate in an event which brings a successful (sometimes world-renowned) chef to the campus for a unique learning experience. The "Culinary Assembly" held in partnership with the Hawaiʻi Culinary Education Foundation consists of a live cooking demonstration by a chef, followed by a question and answer portion and closes with the awarding of scholarships.
In February, James Beard award-winning chef George "Mavro" Mavrothalassitis thrilled students with his culinary techniques. Chef Mavro prepared Squab en Papillote with Savoy Cabbage and Foie Gras for students on Zoom.
"Basically, it's a way to expose students to different elements of the culinary world that they might not get in a classroom—it has become an extension of our education beyond the curriculum," said Associate Professor Matthew Egami.
The long list of participating chefs includes Chris Kajioka, Chai Chaowasaree and D.K. Kodama, who have all given their time to speak to students about their experiences and how they were able to overcome challenges in their specific areas of the culinary industry.
Students love this interaction as they get to see these chefs up close and, before the coronavirus pandemic, they were able to taste the dishes being prepared.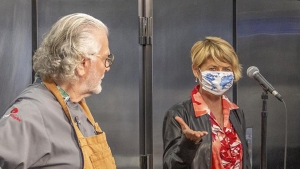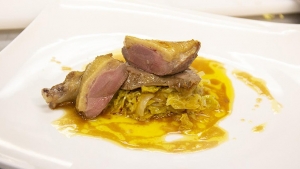 "The Hawaiʻi Culinary Education Foundation is dedicated to the development and support of culinary training programs throughout the state of Hawaiʻi," said Executive Director Hayley Matson-Mathes. "The foundation's mission is to raise the culinary bar in Hawaiʻi."
Having to shift the Culinary Assembly to a completely virtual event during the last two semesters did have some advantages. Shyer students were more inclined to ask questions without the fear of being in a crowd, with all eyes on them.
Students were also eager for the final portion of the event where scholarships were given out. Thanks to very generous donations, these scholarships usually total about $10,000 or more. Consistent donors include: Armstrong Produce, Evelyn Shun Newman, Hawaii Gas, Hawaii Lodging and Tourism Association, Nobuye Horio, Russel J. Hata, Stephen and Eugenie Werbel and Sunao Sandy Kodama. The program also generates scholarship money through events such as a Scholarship Brunch.
Thanks to the Hawaiʻi Culinary Education Foundation, the numerous donors and the industry partnerships built by Leeward CC's faculty, students will continue to reap the benefits of the Culinary Assembly and the wisdom of renowned chefs for years to come.
—By Tad Saiki