An academic support specialist at the University of Hawaiʻi at Hilo's Agricultural Farm Laboratory in Panaʻewa once thought college wasn't the place for him. But that all changed for Jake Rodrique through the guidance of a few extraordinary people. He now holds both bachelor's and master's degrees from UH Hilo, and is thriving in the field of agriculture.
Rodrique grew up in Lahaina, Maui, and enjoyed spending a lot of his time in nature.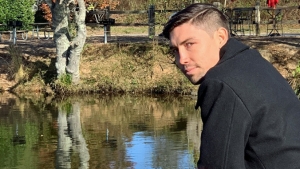 "Growing up I loved the outdoors. I grew up not too far from the ocean and enjoyed the marine world, but also loved going holoholo up in the valleys and the mountains," he said.
Lahainaluna High School had a strong agriculture program that fostered in Rodrique a growing fervor for the field. He tended to a wide array of plants and animals including microgreen beds, eggplant, bananas, goats, pigs and horses.
"These experiences led me to the epiphany that the best food came from the best grown plants and animals, and that solidified my agricultural life path," Rodrique said.
Early support
This budding passion for agriculture wasn't the only deciding factor in Rodrique's post-high school plans.
"I was not going to attend college. I did horrible on the SAT and I had no money," he said.
These feelings of discouragement might have led him down a completely different path had it not been for the philanthropic support of the late Frances Hinton.
Hinton suggested he attend UH Maui College for a semester to test the post-secondary education waters. If he enjoyed that experience, she wanted to have another conversation with him about going to a university.
"She wrote me a check for $5,000 dollars and sent me on my way," said Rodrique. "Safe to say I ran all the way home crying."
Rodrique did exactly as Hinton requested. After completing his first semester of college, he knew for sure that he wanted to aim higher and attend a university-level institution. Hinton then funded his entire undergraduate experience at UH Hilo.
Rodrique said the program encompassed the whole gamut of agriculture he was looking for, incorporating everything from horticulture to aquaculture, chemistry to biology, and agricultural business to financial accounting.
"The degree was exactly what I was wanting, which was diversity, and the ability to create a cyclical agricultural process that could give me the base foundation for my path of regenerative agriculture," he said.
Rodrique graduated with his bachelor of science in agriculture in 2014.
Extraordinary mentors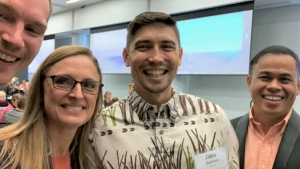 After a couple of years of teaching on Maui, he decided to sign up for the tropical conservation biology and environmental science master's program at UH Hilo, after a conversation with Professor of Horticulture Norman Arancon. A very influential mentor, Arancon pioneered research in the utilization of earthworm-worked soil amendments, referred to as vermicomposts, in increasing the growth, flowering and yields of plants.
While a student in the graduate program, Rodrique traveled to North Carolina in 2018 with Arancon to attend a vermicompost conference.
"I remember feeling like a star because I was the graduate student of one of the leading vermicology experts on the planet," Rodrique said. "It was an experience of a lifetime."
Before finishing up his master's degree in fall 2020, Rodrique was hired to work on the beekeeping program at the university's Agricultural Farm Laboratory with Professor of Entomology Lorna Tsutsumi. He now manages the university's 40 hives and is the point person for students during labs where he facilitates learning and research needs.
He assists with faculty research projects and outreach projects for various crops such as papaya and sugarcane. Rodrique has also found success as an independent farmer.
"My wife and I have started our farming adventure by growing mushrooms," he said. "We are steadily supplying Island Naturals [health food store in Hilo] with pink oyster mushrooms weekly, and need to increase our production to meet the demands."
Rodrique is thankful to get paid doing what he loves on the farm, and is especially grateful to those who fertilized his ambitious dreams.
He said, "I get to watch my ideas burgeon, and flourish, or decay depending on the end goal. It's all around just a fun place to be."
—By Kiaria Zoi Nakamura, a UH Hilo student