The Campus Operations Planning and Facilities team continues to improve energy efficiency at the University of Hawaiʻi at Mānoa, according to a new website that tracks the impact of multiple energy saving projects on campus. The site shows an increase in kilowatt-hours (kWh) savings and provides details of the different energy efficient projects.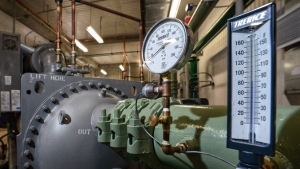 The UH 10-campus system is required to become net-zero (producing as much energy from renewable sources as consumed) by 2035.
The major upgrades on campus have had a significant impact on energy conservation. Within the last 10 fiscal years, UH Mānoa has saved over 7.2 million kWh through the redesigning and reworking of systems that help the campus move towards the net zero goal. These projects also had to consider the construction and building outage constraints for the building occupants. All projects were completed with minimal impact and disturbance to the ongoing academic and research operations in the buildings.
"UH Mānoa Facilities' has always had a longstanding commitment to providing uninterrupted, and sustained 24/7/365 operations with efficiencies in: serviceability, maintainability, reliability, and energy conservation even in spite of the limited resources and funding allocated to maintenance and replacements of the campus' aging infrastructure," said Dan Furuya, manager of facilities and operations. "These energy efficiency gains are directly attributed to the smart work of our operations teams over many years through creative design thinking and strategic project implementation. Upfront investments in efficiency, actually reduce long term costs."
Students, faculty and staff of UH Mānoa also help contribute to energy conservation with simple acts such as turning off lights or air conditioning units.
From the 2009 modifications, which conserve ~1,200,000 kWh/year, to the Loop C project, which serves as the cooling hub to five surrounding buildings, to the more recent enhancements in 2017 for a more efficient cooling system in the Stan Sheriff Center, UH Mānoa has made continuous efforts to boost energy efficiency over the years. One of the most recent examples is the upgrade to the chiller system originally installed in 2000 that serves School of Architecture, Hawaiʻi, Gartley, George, Dean and Crawford halls. In 2020, more energy efficient models were installed as part of the new system that can better match chiller power to thermal load and conserve energy.
"Each new system allows the university to continue to have a fully operating facility that is more flexible and easier to maintain without operational impacts so we can fulfil our mission of education and research," said Blake Araki, director of facilities and operations. "Energy efficiency reduces the amount of money the university needs to spend on electricity every month, and reduces environmental impacts on our planet."
Within the last 10 years, UH Mānoa has made the following improvements to buildings and equipment across the campus. Some highlights include:
"In a post-COVID world we are all being asked to do more with less resources so that our communities can thrive and flourish within the social and ecological limits of our islands," said Matthew K Lynch, director of sustainability initiatives. "Blake and his team have been doing more with less for years, and we can all learn from their innovative approaches."
Visit the Energy Efficiency website for more information on UH Mānoa's energy efficiency progress.