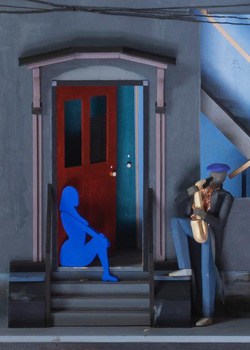 A virtual moment of escape and reflection in these uncertain times is offered through Nights on B Street, a collaboration of art by Adam LeBlanc and poetry by University of Hawaiʻi at Mānoa Emeritus Professor Joseph Stanton on exhibit at Windward Community College's Gallery ʻIolani. The exhibit is available virtually to the public. It includes spoken poetry and a virtual stroll up and down B Street, with commentary about the artists' collaboration.
LeBlanc's installation Nights on B Street, invites intrigue and mystique—while gathering viewers into the urban landscape world of residents encompassing dreams fulfilled or unfulfilled. Musicians and artists are playing to those scenarios, and passersby become part of the panorama in this culturally captivating inner cityscape. Insightful poetry by Stanton accompanies LeBlanc's work giving the viewer a bountiful treat.
"This is an exhibit not to be missed showing a collaboration of longtime friends, poet Joseph Stanton and artist Adam LeBlanc, innovators in their collective arts merging images and words to create an insightful exhibit celebrating their artistic connections," said Gallery ʻIolani Director Toni Martin.
B Street
"Mostly overlooked and under-represented, B Street had evolved between the lines into an interesting, dynamic and somewhat risky neighborhood. It provided shelter for lovers and shelter for those with no love to spare. To be sure, B Street had its ins and outs but it was as good a place as any to begin living large," LeBlanc wrote about the exhibit.
"It was a time when everyone and everything always seemed to be coming and going. It was a space where the Cheshire Cat hung its grin for a while. And in this curious habitat, if you listen long enough, you might hear the breath of possibilities," he said.
About the artists
LeBlanc, a painter and sculptor, has lived in Hawaiʻi since 1989 and continues his work in Honolulu. In the 1970s, he studied at the Art Institute of Boston, the Fine Arts Work Center of Provincetown and Boston University. His teachers included Robert Motherwell and Philip Guston. LeBlanc has had solo shows at Honolulu Museum of Art at Linekona and Koa Gallery at Kapiʻolani Community College. He has also shown his painting and sculpture in group exhibits at UH's main gallery, Honolulu Museum of Art at Linekona and Gallery 'Iolani at Windward CC.
Stanton, a mixed-media poet, has lived in Hawaiʻi since 1972. His books of poetry include Moving Pictures, Things Seen, A Field Guide to the Wildlife of Suburban Oahu, Cardinal Points, Imaginary Museum: Poems on Art, and What the Kite Thinks: a Linked Poem. Stanton's poems have appeared in Poetry, Harvard Review, New Letters, Antioch Review, and Bamboo Ridge. He is a professor emeritus of art history and American studies at UH Mānoa and teaches poetry workshops at Honolulu Museum of Art and Poets House in New York City.
For more information about the exhibition and/or studies in gallery design and management at Windward CC, contact Martin at (808) 236-9155 or visit the Gallery ʻIolani website.
—By Bonnie Beatson