After nearly 16 years of service to the University of Hawaiʻi, Mary Boland will retire as the longest-serving dean of UH Mānoa's School of Nursing and Dental Hygiene (SONDH) in June 2021. She has led SONDH to become a lever for local and global social change.
Originally set to retire in mid-2020, Boland quickly recognized that her assistance was needed during the COVID-19 pandemic. She postponed her retirement to provide consistent leadership and support for the school and university to traverse these new waters.
"We cannot thank Mary enough. She delayed her retirement by a year when the pandemic struck," said UH Mānoa Provost Michael Bruno. "She has been indispensable to the state and the UH System in planning the COVID-19 response."
"The School of Nursing and Dental Hygiene is a key UH asset leading through education, research and service," Boland said. "During the past 16 years, I have had the honor of serving our Hawaiʻi nei in concert with great students, engaged alumni, outstanding faculty and wonderful community partners—all dedicated to improving health."
SONDH flourished under Boland's tenure, creating innovation within the school and the larger community. What has stood out has been her ability to successfully execute SONDH's vision of a multifaceted enterprise that supports the mission of the UH through leadership, excellence and innovation. She has the ability to bring vision to life by leveraging the skills and talents of a team of individuals, while maintaining a sense of humility for those she leads by caring for them as people.
Leadership
At the helm of the school, Boland leads 105 faculty and staff, 414 students, countless alumni and several transformative initiatives, such as the Hawaiʻi State Center for Nursing and the Hawaiʻi Keiki: Healthy and Ready to Learn program. She has worked to ensure the advancement of school strategic plans that promote UH's commitment to diversity, equity, inclusion and cultural values by developing a spirit of faculty collaboration, building a professional staff, and engaging with employers, alumni and community organizations.
"She really looked at the entire community, private, public, federal and state partnerships," said Stephanie Marshall (COL Ret U.S. Army), who served as the director of community partnerships at SONDH. "It was never just about the School of Nursing, but it was about how we can come together with various aspects of the state."
Leaving a legacy of continued success
Boland leaves a legacy that has set the school up for continued success in the years to come. During her tenure, the school has added new endowments to support distinguished professorships and established multiple student scholarships and endowments.
She led three nursing and two dental hygiene national accreditations, expanded research and partnerships, and improved access to education and care. She supported the development of the expanded function dental hygienist certificate program to address oral health needs of young children.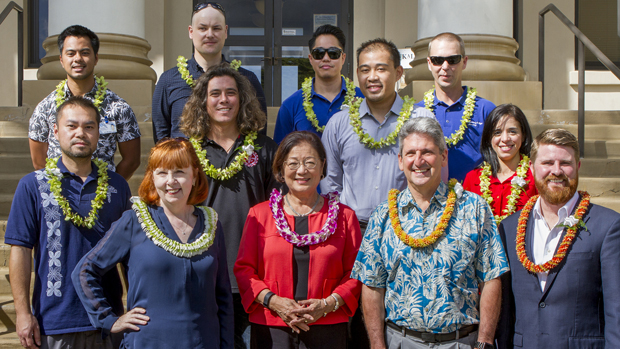 Boland introduced the Graduate Entry to Nursing Program followed by the Doctor of Nursing Practice (DNP) degree. Since launching, these programs rose to and maintained national rankings and continue to attract students from all over the world.
Perhaps one of Boland's most visual products of innovation is the funding, construction and operation of the nationally accredited UH Translational Health Sciences Simulation Center. This center serves as a shared community resource that educates teams of students across all the UH health disciplines by providing a safe space for organizations to simulate updates to their procedures to improve patient safety.
"She has created tremendous opportunities for students at undergraduate and graduate levels. That was always near and dear to her heart, giving students as enriching experiences as they could get," Marshall said, adding that she was able to accomplish these achievements through partnering with others. "It was always about partnerships. No person is an island. Her mantra was that we have to all work together and build those blocks for health care."
The search for a new dean of SONDH is expected to begin in the coming months.