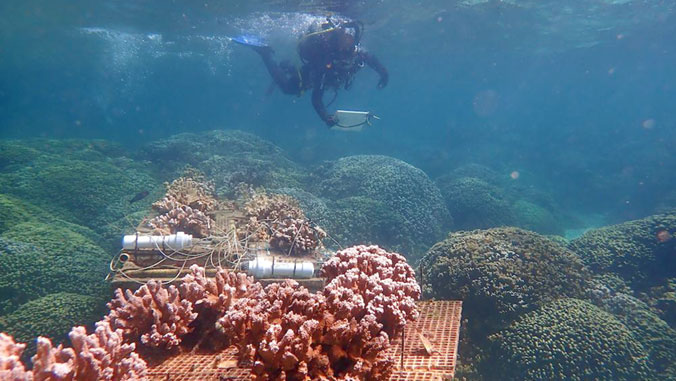 A doctoral candidate in the University of Hawaiʻi at Mānoa Marine Biology Graduate Program, studying a potential coral-saving strategy, was named a recipient of the 2021 David H. Smith Conservation Research Fellowship by the Society for Conservation Biology and the Cedar Tree Foundation.
Shayle Matsuda will be part of a team of researchers engaging in an international coral reef restoration project. During the fellowship, he will assess how transplanting coral affects their health, specifically the symbiotic relationship between coral and their microbiomes.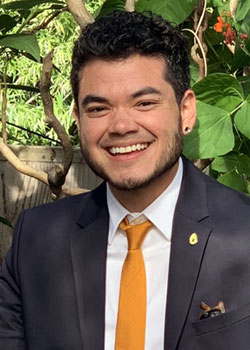 "By studying patterns of microbial dysbiosis, the breakdown of the microbiome-host relationship, in multiple key coral species in both Hawaiʻi and Florida, we will better understand the risks of implementing large-scale coral translocation as a conservation strategy," said Matsuda.
Prepared for the future
Working with Craig Nelson, an associate researcher at the Center for Microbial Oceanography: Research and Education, and the Gates Coral Lab at the Hawaiʻi Institute of Marine Biology, Matsuda has focused his graduate research on the effects of ocean warming on coral-microbial symbioses and coral physiology. With fellowships from Hawaiʻi Sea Grant, Point Foundation, and Denise B. Evans Fellow plus direct support from Pam Omidyar and the Paul G. Allen Family Foundation, he has studied coral bleaching and recovery in Hawaiʻi and on the Great Barrier Reef in Australia, examining how thermal stress impacts microbial and algal symbioses.
"Shayle's doctoral work here at UH Mānoa has broken new ground in understanding how rising ocean temperatures will affect the symbioses between coral, algae and bacteria as coral reef bleaching increases worldwide," said Nelson. "He has pioneered new molecular techniques to study these symbioses throughout the coral lifecycle. Shayle will bring cutting-edge skills in coral microbiome science and the molecular basis of symbiosis to his Smith fellowship project."
The Smith Fellowship, one of the nation's premier postdoctoral programs in conservation science, identifies and supports early-career scientists who will shape the growth of applied conservation science and seeks to find solutions to the most pressing conservation challenges.
This effort is an example of UH Mānoa's goal of Building a Sustainable and Resilient Campus Environment: Within the Global Sustainability and Climate Resilience Movement (PDF), one of four goals identified in the 2015–25 Strategic Plan (PDF), updated in December 2020.
For more information, see the School of Ocean and Earth Science and Technology website.
–By Marcie Grabowski​