A University of Hawaiʻi at Mānoa alumnus is the recipient of a prestigious honor to expand his groundbreaking publishing work in Asia. Noah Perales-Estoesta is one of 18 Luce Scholars selected out of a pool of 164 candidates for 2021. The program recognizes promising young leaders with a year-long immersive experience in Asia in a field of their choosing.
Perales-Estoesta is interested in working with a mission-driven publisher specializing in regional topics.
"I'm particularly interested in communities that lie outside the mainstream—the hill tribe people of Southeast Asia or the Ainu in Japan, for example—and how publishers navigate the creation of books about them," Perales-Estoesta said. "That includes their criteria for determining which works are legitimate, how they approach things like the copy editing of culturally remote topics, and even book design and marketing. I'm also excited to explore how digital platforms, new media and self publishing can be leveraged for this subject matter, and I hope to have a part in making these tools available where they're needed."
Building a career in publishing
Born and raised in Hawaiʻi, Perales-Estoesta attended UH Mānoa as a first-generation college student, double majoring in English and Spanish. He worked as a copy editor for Mānoa: A Pacific Journal of International Writing, a biannual literary publication highlighting fiction, poetry, non-fiction and drama from Asia, the Pacific and the Americas. Perales-Estoesta also served on UH Mānoa's Student Media Board, where he helped oversee the strategic direction, finances and policies of the university's four student-managed media programs.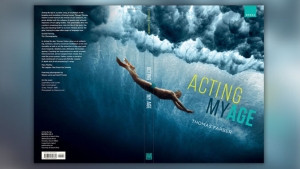 After graduating in 2015, Perales-Estoesta lived in Brazil as a Fulbright Scholar, teaching English, and researching the country's literature and publishing industry. He edited Becoming Brazil: New Fiction, Poetry, and Memoir, a special issue of Mānoa that gathered a diverse collection of Brazilian literature translated in English. He currently works as development and digital projects specialist at UH Press, where he is responsible for metadata, digital rights, backlist digitization and fundraising initiatives.
"It goes back to an early love of reading and an interest in books, and finding opportunities as a student to explore that in classes and through extracurricular activities," Perales-Estoesta said. "My time as an undergraduate was really formative. I'd be in a literary theory class learning about textual studies—which is basically how the publishing process shapes and reshapes a text—and then go to a Spanish class and study grammar, and then go copy edit a translated manuscript at Mānoa. So there was a lot about my education that cohered around publishing."
More about the Luce Scholars Program
UH Mānoa is among more than 70 top universities across the U.S. that have been tapped to nominate candidates annually. According to the Henry Luce Foundation, Luce Scholars are expected to "develop a sophisticated understanding of a dynamic region that is critical to America's future and gain a new perspective of the world and America." In the era of the COVID-19 pandemic, such opportunities are crucial to the kinds of global collaborations that our communities need.
This work is an example of UH Mānoa's goals of Excellence in Research: Advancing the Research and Creative Work Enterprise (PDF) and Enhancing Student Success (PDF), two of four goals identified in the 2015–25 Strategic Plan (PDF), updated in December 2020.