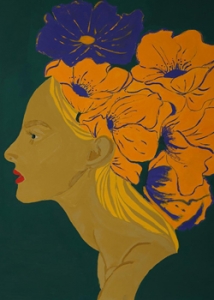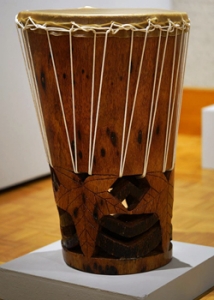 People from across the islands, country and world have had to change with the pandemic throughout the past year. Challenging as it has been, Windward Community College art students and instructors adapted to instruction via Zoom. The fresh works housed in an exhibition called Confluence 6 in Gallery ʻIolani are a tribute to students' creativity and what is achievable.
Confluence 6 features more than 130 student works from studio art classes at Windward CC in ceramics, color theory, drawing, 2D design, painting, gallery design and management, photography, screen printing, sculpture and Hawaiian carving.
"This was my first time working on a ceramic bust," said student Jade Hurley, "and my first time working on something like this over Zoom."
An acrylic painting by student Erin Wesly titled "Disney Pink" offers brick and mortar bathed in tones of delicate pink and purple into the form of towering castle walls.
"My art is an accomplishment of being able to get out of my perceived limits," said Wesly.
This year marks the 30-year anniversary of Gallery ʻIolani, celebrating more than 160 exhibitions in the current 1,600-square-foot gallery located adjacent to Palikū Theatre, and from 1991 to 2003 in Hale ʻIolani. Gallery ʻIolani was voted runner-up in the category for best art gallery in Honolulu Star Advertiser's Hawaii's Best 2020.
Gallery
ʻIolani

information

Confluence 6 runs March 5–May 5, 2021. Gallery hours are Monday–Friday, 1–5 p.m., closed Saturdays, Sundays and holidays.

The gallery remains temporarily closed to the public during the pandemic. Only students, faculty and staff are permitted to enter until restrictions are lifted.

Please call (808) 236-9155 for updated information.

For more information about the exhibition and/or studies in gallery design and management at Windward CC, contact Gallery Director and Professor Toni Martin at (808) 236-9155 or visit the Gallery ʻIolani website.