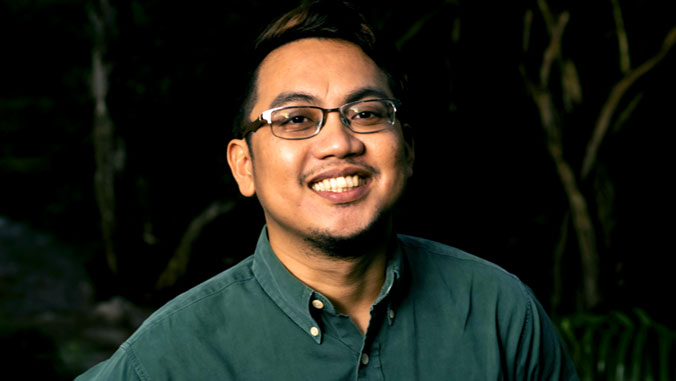 An oceanography graduate student at the University of Hawaiʻi at Mānoa School of Ocean and Earth Science and Technology (SOEST) has been awarded an Early Career Grant from the National Geographic Society. Andrian (Adi) Gajigan will examine microbial and viral drivers of red tide in Bolinao, Philippines as a 2021 National Geographic Explorer.
National Geographic Early Career Grants identify emerging leaders, build their capacity through professional development, and provide funding for a one-year project.
Prepared for the future
Gajigan, a biochemist and oceanographer, will use the award to investigate the role of microbes and viruses in red tides, a phenomenon that occurs when certain algae are so numerous that coastal water can be colored red. The algal blooms can deplete oxygen in the water and release toxins that are dangerous to humans and other animals, causing some areas to enforce shellfish bans to protect communities. This project will be done in collaboration with his colleagues in Hawaiʻi and the Philippines.
As a doctoral candidate in SOEST Professor Grieg Steward's laboratory, Gajigan focuses on phytoplankton viruses. His scientific endeavors span the molecular level to ocean-scale processes.
While earning his bachelor's degree in biochemistry and master's degree in marine science at the University of the Philippines, Gajigan participated in open-ocean research near the Philippines and around the world, assessing microbial community diversity and structure as well as assisting with a project to develop an early predictive system for harmful algal blooms.
Merging science and justice work
"I've been fascinated with science since I was a kid," said Gajigan. "However, growing up in a developing country like the Philippines, I didn't think of science as a career. My life has always been at the intersection of the sociopolitical turmoil in my home country that affects the resources we have, and what dreams I can pursue."
"There is still work to be done in advocating and moving towards the inclusion of marginalized and minoritized people so that we have the chance to work in and contribute to STEM fields," he added.
This effort is an example of UH Mānoa's goal of Excellence in Research: Advancing the Research and Creative Work Enterprise (PDF), one of four goals identified in the 2015–25 Strategic Plan (PDF), updated in December 2020.
For more information, see SOEST's website.
–By Marcie Grabowski