Affectionately known as "Dr. B" by his students and colleagues, James Brewbaker, who had a long and illustrious career in the College of Tropical Agriculture and Human Resources (CTAHR ) at the University of Hawaiʻi at Mānoa, died on March 15.
Brewbaker came to UH Mānoa in 1961 as a young researcher, and would remain with CTAHR for the next six decades. He went on to author nearly 300 scientific publications throughout his 70-year career.
An incredibly productive and innovative scientist in plant breeding, Brewbaker won numerous national and international awards for research excellence. He was instrumental in creating the tropical sweet corn seed industry that did not exist when he began, but is now a major world industry. For example, his "Hawaiian Supersweet #9," is a standard variety in Thailand, the world's largest producer of canned corn. Many of his varieties can be found across Hawaiʻi and internationally, including the well-known "Kahuku Sweet Corn"—all of them noted for resistance to tropical diseases and insects.
He also mentored 52 master's and PhD students in his capacity at UH Mānoa, many of whom went on to leadership roles throughout industry and academia. "Dr. Brewbaker's curiosity and enthusiasm for knowledge was infectious and remained so his entire life. He was a highly inspiring and effective instructor—never deterred despite more than 70 years in research," noted Michael Kantar, assistant professor in the Department of Tropical Plant and Soil Sciences.
Brewbaker's driving ambition was to leverage science as a means to alleviate widespread hunger around the globe. His work always centered on the farmer and people, and how advancements should benefit the lives of the community. His final publication, a 2020 update of his seminal work Agricultural Genetics, was purposely a digital version, and completely free, in order to facilitate its dissemination in developing countries. Today, Brewbaker is widely credited for improving the diets of people throughout the tropics and subtropics.
A pioneer in plant genetics and breeding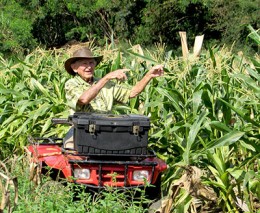 While his pioneering work on tropical maize breeding is his most well-known work, Brewbaker also had a great interest in tree breeding, also with big impacts far beyond Hawaiʻi. For example, he bred the tropical legume tree Leucaena. This legume fixes nitrogen, improves the soil, and is a rapidly growing species whose wood can be used for fuel, forage and as a building material. His improvements to Leucaena have bettered the lives of millions in the developing world.
Brewbaker's research programs impacted the people at UH, not only with knowledge and education, but also in how they could live their daily lives and spend their careers. Throughout the global plant breeding community, he was known for being generous to his colleagues and students, helping them reach their professional goals with uncommon support.
He also cared deeply about the institutions of science and higher learning. Upon retirement, he donated $1 million to UH Mānoa to continue work in plant breeding and global food security.
"Dr. Brewbaker's influence lives on through the students he trained and who made their own mark in other countries like Japan, Taiwan, Korea and China," said CTAHR Dean Nick Comerford. "He will be missed, but his influence is eternal."
Brewbaker is survived by his children Paul, Philip, Perry, Pamela and James; by their spouses and partners; by TutuB (Lilia); and by 11 grandchildren. Condolences may be sent to pamelabpalacio@gmail.com.