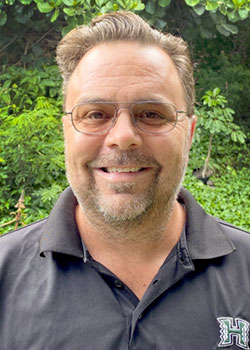 A University of Hawaiʻi at Mānoa College of Education (COE) alumnus is helping elementary school families impacted by COVID-19. Damian Shearer, a fourth-grade teacher at Waimānalo Elementary and Intermediate School (WEIS), has raised thousands of dollars for his school community since the COVID-19 pandemic rendered many families without income to buy food and other basic necessities.
"Every day, I was seeing how this pandemic was hurting many families around the world and here in my community, and I wanted to try and do something to help," Shearer said. "I had started by giving in my own small way to the local church, United Way and other donation sites, but I soon realized that my individual donations would only help a few people before I could no longer afford to do it."
Shearer said there were many people out there who also wanted to help but were not sure where to begin. They wanted to donate something that would impact others significantly and safely, so Shearer suggested Costco gift cards.
"Families would be able to buy food in large quantities much more affordably than in the regular grocery store," he explained. "I had heard about crowdfunding and thought that this might be the perfect platform to get my idea to other like-minded people."
Shearer created a GoFundMe account called Kids Need Food. With the donations, he has been able to give each student in his class two $100 gift cards at the end of 2020.
"The kids were telling me about the food they bought, the Christmas ham or turkey they were able to enjoy, and even some small gifts they were able to buy for their family members," Shearer shared. "The parents were so grateful and appreciative, and the Christmas cards I received this year were very touching."
Lasting impact
Having earned his master of education in teaching (MEdT) degree from COE, Shearer has been teaching at WEIS since 2013. Shearer said being around young people inspires him and brings great joy. This passion has sustained him through the many challenges brought on by the pandemic. From synchronous and asynchronous to hybrid and fully online classes, he has had to adapt and stay a step ahead of his students.
"The training I received from the MEdT program has been integral to my profession and confidence as a teacher. I was lucky enough to have had a great cohort led by Institute for Teacher Education Specialist Scott Robinson who has a gentle but clearly directed program to help us fulfill our requirements and prepare us for success as a teacher. He is always there and ready to give assistance even 10 years after I graduated!"
Robinson said, "It was a pleasure working with Damian who was not only committed to becoming an exceptional elementary teacher, but he was respected and well-liked among his cohort peers. Damian has a wonderful sense of humor, a caring heart and outstanding communication skills."
This effort is an example of UH Mānoa's goal of Enhancing Student Success (PDF), one of four goals identified in the 2015–25 Strategic Plan (PDF), updated in December 2020.
"I have just finished my second round of gift cards this spring break 2021, and the generosity and outpouring of support is incredible!" Shearer said. "I am redoubling my efforts to have a third round as soon as possible, hopefully more people will give and spread the word about Kids Need Food!"