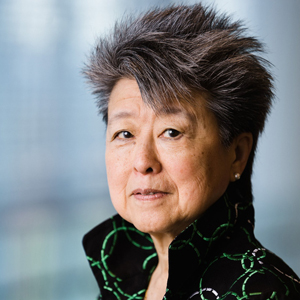 As fears build following a stark rise in anti-Asian attacks largely targeting senior citizens, many are wondering what they can do to stamp out the violence. The University of Hawaiʻi at Mānoa Better Tomorrow Speaker Series will host a live online conversation with author and activist Helen Zia, one of the country's most prominent Asian-American voices against hate and homophobia.
The livestream conversation, "The Long Road to Atlanta: Anti-Asian Racism and Misogyny," will be held on Monday, April 12, at 4 p.m.
"The University of Hawaiʻi is deeply troubled by recent acts of violence and discrimination," said UH President David Lassner. "We look forward to this conversation with Helen Zia as we come together to condemn racism, xenophobia and misogyny, and we try to lift each other up and create a kind and caring UH community."
"As an unwavering voice for social justice, Helen Zia will help us reckon with racial and sexual violence in America's past and present," said Mari Yoshihara, scholar of Asian American history and UH Mānoa American studies department chair.
The event is open to the public. (Submit questions and register here.)
Former UH Mānoa American Studies Professor Theodore S. Gonzalves, past president of the Association for Asian American Studies, will interview Zia and field questions from the audience.
More on Zia
Zia, a daughter of immigrants from China, authored Last Boat out of Shanghai, My Country Versus Me and Asian American Dreams. She gained prominence in the 1980s as the national organizer and spokesperson for the Justice for Vincent Chin campaign, a story currently under development as a television series. Zia writes regularly for the New York Times, Washington Post.
The Better Tomorrow Speaker Series is a joint venture of the Hawaiʻi Community Foundation, Kamehameha Schools and UH.
Lead sponsors of this event include the American Civil Liberties Union of Hawaiʻi; Association for Asian American Studies; UH Mānoa College of Arts, Languages, and Letters; College of Social Sciences; Department of History and the William S. Richardson School of Law. Co-sponsors include the UH Mānoa Departments of American studies, anthropology, English, ethnic studies, political science and women's studies, as well as the Matsunaga Institute for Peace.
For more on information, visit the UH Better Tomorrow Speaker Series website or email btss@hawaii.edu.