(Editors note: Moriso Teraoka passed away on April 25, 2021.)
Google "Moriso Teraoka" and you will find more than 50,000 hits, indicative of the inspirational life of Kapiʻolani Community College's oldest living graduate. Teraoka, who will be 97 in June, earned his AS degree, with honors in 1988. His unique accomplishments and contributions are intertwined in myriad ways with the college, which is celebrating its 75th anniversary.
Before
Kapiʻolani

CC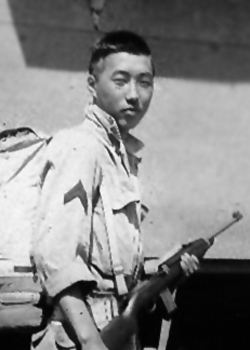 Born in the small plantation town of Wainaku on the island of Hawaiʻi, Teraoka joined the famed 442nd Regimental Combat Team while still in his teens. He eventually served in the 100th Infantry Battalion in southern France and was later assigned to combat duty in Italy.
He was willing to share stories that were transformative, many with rich life lessons, through University of Hawaiʻi's, The Hawaiʻi Memory Project, "The Nisei Story: Americans of Japanese Ancestry During World War II." During the war, for example, he and his team befriended a German prisoner of war. That prisoner taught them how to play the accordion.
After the war, Teraoka worked at Pearl Harbor Naval Shipyard as an apprentice machinist, and ended his 38-year career having attained the position of nuclear ship superintendent. He always wanted to be a weekend cook for his family, so upon retirement, he enrolled in culinary classes at Kapiʻolani CC.
Planting a new vision
Teraoka's classes were divided between the (original) Pensacola and (current) Diamond Head campuses, and he reflected on how his experiences straddled the two worlds. From Pensacola, he savored the close ties of his cooking classes and working with industry partners, and at Diamond Head, he identified with Sean Browne's "Spirits' Way," a bronze sculpture symbolizing spiritual change that one experiences through the passages of life. One day, Teraoka had a vision to transform the arid land surrounding the sculpture with hearty and sustainable plants.
He approached Provost John Morton and his assistant Patricia Snyder with a proposal to create a garden of cacti and succulents. With assistance from friends in the community and botany students, Teraoka began a small garden which eventually became world-renowned, eminently recognized as one of "22 Hidden Gems to Uncover in Hawaiʻi" by BuzzFeed, and an incubator for community fellowship.
His son, Colin Teraoka, said, "For Dad, KCC was the means to continue to grow, develop and apply himself after age 60; the garden is his legacy to the new generation proving the merits of work, patience and keeping a good attitude."
Morton said, "Moriso was a man of great vision, but a shrewd man who only shared the first steps to that vision. This is how he began the cactus garden, asking for permission for a small 10 by 10 plot. Easy for me to approve and impossible for me to stop the expansion once he showed what that garden could be."
With more than 200 varieties of cacti and succulents, the garden eventually extended about 800-feet long, and 100-feet deep. Over time, the garden has been mentioned on television, in news articles and magazines, and recognized by the Outdoor Circle with a beautification award.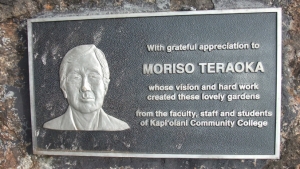 In 2005, on behalf of the faculty, staff and students of Kapiʻolani CC, Morton arranged to have a bronze plaque made in Teraoka's honor, and today it continues to be an integral part of the garden as a tribute to his hard work and dedication.
"When I recall the exciting years of designing and building the beautiful Diamond Head campus of Kapiʻolani Community College, I think first of Moriso and remember his special daily presence there in the gardens as I walked by to begin my daily work," said Snyder. "His life has enriched my own and that of thousands of students, faculty and community visitors!"
Writing, reporting and remembering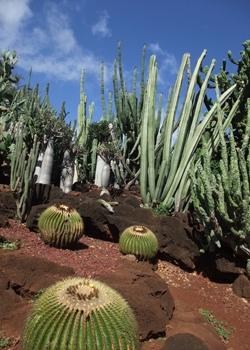 Teraoka also committed quality time as a writer and photographer for Kapiʻo, the campus' student newspaper. About the time he earned his degree in food service, he realized he enjoyed writing. He thrived under the tutelage of Kapiʻo's advisor, Winifred Au; wrote profusely and registered for almost every literature course offered by the college. His writing was encouraged by many of his instructors and he began to publish some of his short essays and poems.
He contributed stories for The Hawaiʻi Memory Project. One of his greatest honors as a writer was the invitation from Bamboo Ridge Press to publicly read one of his short articles at UH Mānoa.
His passion for the written word never diminished. During his years working in the garden, he invited all visitors to contribute their thoughts, memories and impressions to share with other visitors to the garden. He printed, laminated each contribution and lovingly hung each sentiment on what he called his "P•O•E•TREE." He later admitted that he did not expect the abundant outpouring of sentiment from total strangers and visitors from all over the world.
An extension of family
Teraoka saw Kapiʻolani CC as an extension of his family. He is one of the founding members of Kapiʻolani Community College Friends and Alumni Association, and he received the Distinguished Alumni Award for Kapiʻolani CC in 2014. In that same year, he was recognized as one of the select few, considered as "Kapiʻolani CC's Finest," during the University of Hawaiʻi Community College's 50th Anniversary Celebration.
A few years ago, Chancellor Louise Pagotto told Teraoka she wanted to plant a tree in honor of her two cats that had recently died, he stopped her a few weeks later.
Teraoka asked, "Pagotto, have you picked out the tree you want?" She replied no. "Humpf!" he groused. "OK. I know what tree. Pagotto, you know where you want to put it?" She again said no. "Humpf! OK. I know where to put it," Teraoka replied.
"On the appointed day, we gathered at the foot of the stairs of the ʻIlima building. In the planter, Moriso had dug a hole and had brought an Australian Red Cabbage Palm in a pot. After providing me with instructions, I placed the palm in the ground. Moriso took out his harmonica and began to play," Pagotto recalled. "By this time, a few people had gathered, and the bystanders were invited to throw a spadeful of dirt into the hole in honor of pets they, too, had lost. A small moment of humanity. And the palm still grows in that spot today."
Teraoka was in a care home and unavailable for an interview at the time of this writing, but he wrote years earlier in The Hawaiʻi Memory Project, "I believe my legacy is similar to most of the Nisei. My actions, my decisions, and how I arrived at those decisions are but the reflections of what I inherited from my parents' integrity, honesty, valor, perseverance, honor, and to love the earth that gave us life."
Kapiʻolani CC's 75th anniversary theme is, "Ā Mau Ke Kukui," which means, "The light continues to burn, or shine." Teraoka's values are such a beacon, like the light that guides the college to embrace Queen Kapiʻolani's motto, "Kūlia i ka nuʻu" (Strive for the highest).
—By Louise Yamamoto