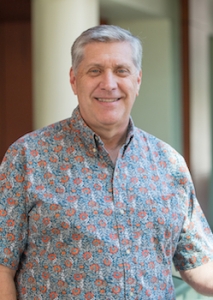 University of Hawaiʻi Cancer Center Director Randall Holcombe is stepping down effective August 1, 2021, to become the cancer center director at the University of Vermont in Burlington. Holcombe joined UH in 2016 and has nearly 30 years of experience in academia, medicine and cancer research, serving in a number of leadership roles around the country. Holcombe is credited with bringing in more than $47 million in extramural research, education and infrastructure funding during his tenure at UH.
"This is a significant loss for the cancer center, the university and the entire state," said UH Mānoa Provost Michael Bruno. "Randy has done a tremendous job since coming to Hawaiʻi five years ago and quickly became a leader in the local medical research and patient care community. When he arrived, he inherited a center in crisis and today it is thriving and poised for great success in the years to come."
Holcombe oversaw the renewal of the centerʻs National Cancer Institute (NCI) designation—one of only 71 NCI-designated cancer centers across the country. He also initiated the development of an Early Phase Clinical Research Center that will allow cancer patients to participate in Phase I-designated cancer trials without having to travel to the continental U.S. The new center will also include the Organoid Generation Facility, a joint venture with Cold Spring Harbor Cancer Center, that will provide a vital resource for the biological study of cancers in minority populations with significant cancer disparities.
Under Holcombe's leadership, the UH Cancer Center made tremendous strides in growing key research initiatives through its collaborations with the Hawaiʻi Cancer Consortium and partners across the U.S., Guam, the U.S. Affiliated Pacific Islands, Australia, Asia and Europe.
The center also continues to be an economic boost for the State of Hawaiʻi. In fiscal year 2020, the UH Cancer Center and John A. Burns School of Medicine accounted for about 95% of the $63 million awarded to Hawaiʻi from the National Institute for Health that directly supported 1,298 jobs and generated $191 million in economic activity.
"This was a difficult decision because I have really enjoyed my time here facilitating Hawaiʻi-relevant research at the center and working with our partners to provide access to the best options for care through the clinical trials network," said Holcombe. "The UH Cancer Center is on strong footing, and I am incredibly optimistic about its path forward. I am confident the exceptional progress that has been achieved over these past several years will continue."
UH Mānoa Provost Michael Bruno will recommend UH Cancer Center Deputy Director Joe W. Ramos to direct the center after Holcombe's departure, consistent with the succession plan provided to NCI. Ramos has been with the UH Cancer Center for 17 years, the last five as deputy director.