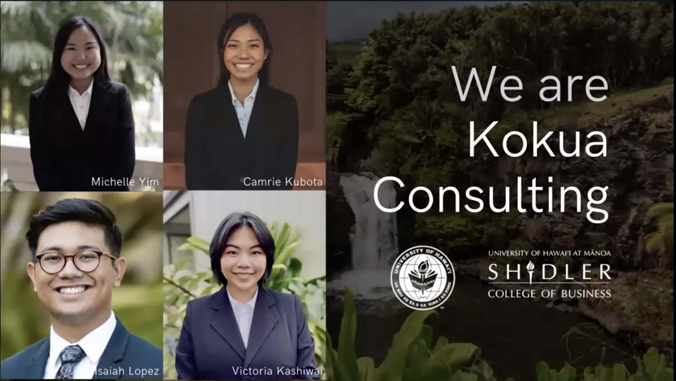 A team of four undergraduate accounting students from the University of Hawaiʻi at Mānoa won first place and a $1,000 prize at the TrueUp Student Innovation Challenge in March 2021. They were among 20 teams nationwide to compete in the three-day virtual competition to review data and create an overall business strategy for Pueblo Hospitality Inc., a lodging company that operates hotels across the U.S.
Michelle Yim, Camrie Kubota, Isaiah Lopez and Victoria Kashiwai, students in the Shidler College of Business' School of Accountancy, used their data analytic skills to measure the company's performance, collaborate online to create a video presentation and pitch their business strategy virtually to a panel of CPAs and business professionals who simulated Pueblo's management team.
"I am looking to pursue a career in professional services and the TrueUp Student Innovation Challenge provided me with a valuable taste of what my future might be," Kashiwai said. "In addition to the opportunity to learn from and collaborate with my colleagues, this challenge has given me the experience to utilize raw data to measure performance and create proposals to improve a client's business. I look forward to using the skills that I have learned in my future professional career."
The Student Innovation Challenge offers college students an opportunity to use their data analytic skills and gain real-world knowledge while competing for prize money. According to UH Mānoa alumnus Donny Shimamoto, a member of the judging panel, data analytics is no longer the domain of the IT professional.
"Data analytics should be interpreted in a business context and tied into every organization's operations and financial performance," Shimamoto said. "I believe that optimally, accountants will collaborate with other professionals to provide insights to improve a company's performance, and the Shidler team did a great job of showing how this can be done. As a Shidler alumnus, I'm particularly proud to see this team take first place."
The competition was made possible through a partnership between the Center for Accounting Transformation, TrueUp and Northern Illinois University. The event is sponsored by the American Institute of CPAs and Crowe.
The team's success and participation is an example of UH Mānoa's goal of Enhancing Student Success (PDF) and Excellence in Research: Advancing the Research and Creative Work Enterprise (PDF), two of four goals identified in the 2015–25 Strategic Plan (PDF), updated in December 2020.