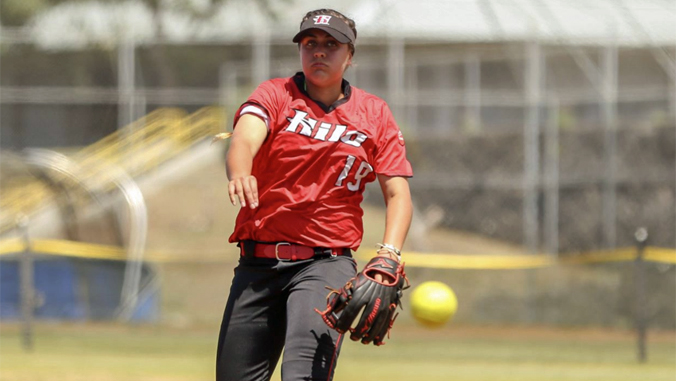 Leah Gonzales, a softball pitcher who threw 12 innings of shutout ball, and Joshua Liu, a tennis player who helped clinch a win during a match between two nationally ranked teams are the University of Hawaiʻi at Hilo Pepsi Athletes of the Week for April 8–11.
Veteran right-hander Gonzales stepped up big for the Vulcans in the pitching circle during 5-0 and 3-0 wins over Chaminade University of Honolulu over the weekend. Gonzales pitched a complete game shutout in Sunday's opener and came on in relief in the second game to also pick up the win. In her start, she tossed a seven-inning shutout, allowing just three hits, no walks and struck out five.
Liu played a huge role in UH Hilo's 4-3 tennis win over Hawaiʻi Pacific University last week on Oʻahu. With the team score tied at 3-3, Liu delivered the deciding point for the Vulcans with a singles victory on court five in a wild 6-7 (8-10), 6-4, 7-6 (7-1) verdict. Additionally, his doubles win on court three (6-1) with Luca Checchia helped the Vulcans secure the doubles point.
Read more about Liu and Gonzales at the UH Hilo athletics website.