COVID-19 is changing the healthcare profession, including the roles of emergency service providers. There are differing levels of emergency medical technicians in Hawaiʻi, and the only campus in the University of Hawaiʻi Community College system to offer the higher-level Mobile Intensive Care Technician (MICT) program is Kapiʻolani Community College.
While an emergency medical technician (EMT) is able to provide basic support to patients in a pre-hospital emergency setting, the MICT is trained to perform additional more advanced life-saving functions such as administering intravenous fluids and medications, performing endotracheal intubation, reading electrocardiograms and using the cardiac monitor defibrillator.
The Kapiʻolani campus is gearing up for a possible increase in demand for MICTs. Leaugeay Barnes, paramedic program director and lead instructor for MICT, developed an asynchronous blended program for the MICT degree and certificate. She has also reached out to Kapiʻolani CC's partners in the health industry and urged them to encourage their EMT employees to advance their education to MICT to help meet the state's workforce needs.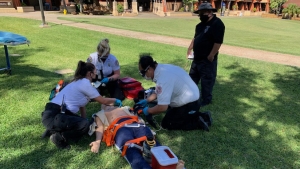 The program is a restructured delivery format that allows Kapiʻolani CC to utilize its faculty more efficiently, making it more financially sustainable. The asynchronous classwork allows qualified students to participate in lectures whenever their schedules allow, however, students are blended together in face-to-face sessions for the requisite tactile and clinical experiences.
Barnes and Jeff Zuckernick, MICT and Emergency Medical Services department chair, are piloting the first cohort based on the asynchronous blended model this spring.
"In discussions with the experienced faculty, lecturers, mentors and preceptors, current students appear to be performing at or above the level of previous classes," Barnes said. "Looking at evidence from blended learning, this is not surprising, because when the responsibility of learning is centered on the student, deeper learning often occurs."
Barnes said that Kapiʻolani CC is also better able to support the needs of neighbor island employers with the asynchronous program.
"Agencies can also be creative in meeting staffing needs since students are required to attend labs and clinicals on specific predetermined dates but otherwise enjoy a more flexible schedule during the [lecture] phase," she said.
Kapiʻolani CC's MICT Asynchronous Blended Program will start on August 23. Applications close on June 1. For more information or questions on the program, contact Barnes at (808) 734-9134, or lcbarnes@hawaii.edu. Or, contact Kristy Yoshikawa, academic counselor for health and EMS programs, at (808) 734-9224, or hlthsci@hawaii.edu.
—By Louise Yamamoto